11 Oct 2021
Created by the team at Big Data Ghana, GAIMS is an online open data platform focusing on agricultural data in Ghana. It aims to provide the agricultural sector in Ghana with reliable and accurate data from open data sources to support the information and analytics required by industry users and decision makers. 
Digital Earth Africa (DE Africa) is excited to provide open and free analysis ready data to support the innovation of new tools and platforms like GAIMS. We sat down to talk with founder Henry Kwamena Baffoe, Director of Technical & Strategies Big Data Ghana, to learn more about the production of the platform, and why the team chose DE Africa's data and services as a foundation.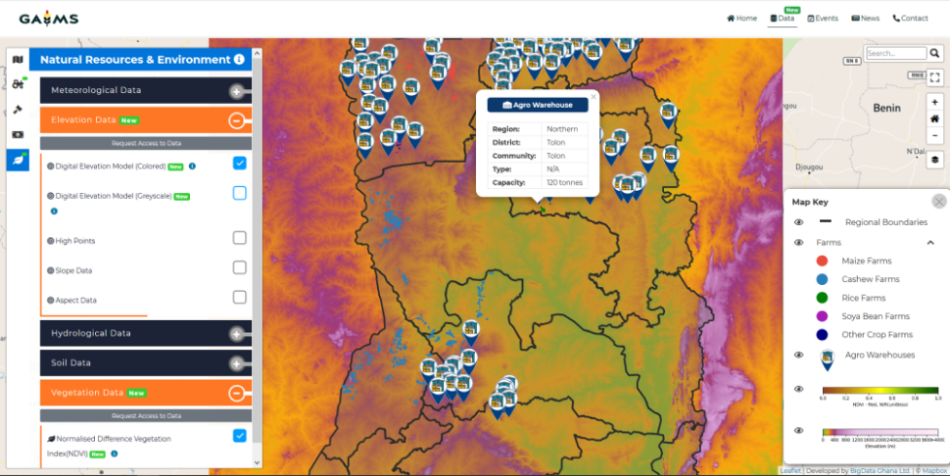 About the GAIMS Platform 
GAIMS is an online data platform combining multiple datasets for Ghana. The aim of the platform is to make agriculture data more accessible, under the GODAN open data for Agriculture guidelines.
"The goal [of GAIMS] is to ensure accurate and reliable data information and analytics to support infomediaries to generate information decision makers can rely on to help achieve the Sustainable Development Goal of Zero hunger". Henry Kwamena Baffoe
The GAIMS platform includes the integration of DE Africa datasets to visualise change on the ground. Integrations include the; 
Cropland extent mapping service,

Crop health analysis tool, 

NDVI, 

DEM, 

Sentinel 2 GeoMAD, and 

Water Observation from Space (WOfS). 
Using the combined services on the GAIMS platform enables users to analyse the state of agriculture in Ghana - the precise location of crops offers significant value to the agriculture industry and decision makers. Some examples of potential insights include:
Estimation of food production for supply chain planning. 

Analysis of areas for suitability for specific crop types. 

Tracing crops to specific geographic locations, providing greater visibility to investors. 

Using specific locations of crops to calculate the transport cost to a major market.  
Why choose DE Africa? 
GAIMS chose to integrate DE Africa data into their platform foremost because the data is analysis ready. 
"Being analysis ready means infomediaries are able to easily digest and integrate data for insight. This removed a significant barrier to target users."  Henry Kwamena Baffoe
Henry remarks that the additional support such as the user guide and Help Desk of DE Africa helps their team to make the most of DE Africa services. He attributes this to reducing the development time and therefore costs for their program. DE Africa is building a community of users across Africa with regular events, training and support through the Help Desk to help our users fully utilise the data services available with the DE Africa platform.
What is next for the platform? 
Currently, the GAIMS platform is in the development phase at approximately 50% completion. Big Data Ghana is aiming to develop the platform to 60% ,where it will be ready to be launched to stakeholders. This will showcase the platform and open feedback channels. Feedback at this critical stage will be used to improve the platform. There are also Data APIs available for developers to enable integration into consumable applications. The GAIMS team hopes the platform can expand to be replicated in countries other than Ghana in the future. We're excited to see what they do next. 
To learn more about the GAIMS platform and Big Data Ghana see their website here.  
Learn more about the Cropland Extent Map and Water Observations from Space Services. 
Discover the user community and support for Digital Earth Africa users at our Help Desk here.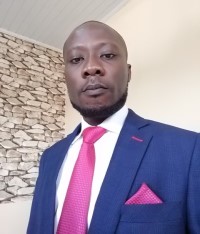 Henry Kwamena Baffoe, 

Director Technical & Strategies - Big Data Ghana Limited  
Henry Kwamena Baffoe, Managing Partner and Technical Director with BigData Ghana Ltd is an accomplished GIS/RS Application Development Expert with a proven track record in building robust GIS/RS Applications in the developing country context across several sectors in Africa. He is dedicated to leveraging on GIS/RS Technology in advancing development in Africa and has been for the past decade leading a team of enthusiastic and innovative young developers for this vision.