The challenge: Climate action for Africa 
Africa is at the frontline of the climate crisis. The human and economic impacts of climate extremes such as droughts, flooding and rising sea levels are already being felt across the continent. Building greater resilience to the changing climate is crucial to Africa's future.
To take effective climate action, countries in Africa require technology, finance and capacity building. Digital Earth Africa has a unique role to play in enabling acceleration towards a continent that is better adapted to the climate challenges that lie ahead. 
A solution: Open, free and accessible Earth observation data  
Digital Earth Africa empowers decision makers across Africa to take country-led climate action by providing open, free and accessible Earth observation data on a continental scale. This creates an opportunity to access data for high quality continental, country and local scale analyses to produce actionable information for decision-makers.
Powered by partnerships, Digital Earth Africa provides Earth observation data on a platform that is open and completely country-agnostic. Industry and policymakers can access the data they need to detect changes to their country's water supply, land, forests, crop coverage or coastline, and use it to make informed decisions to mitigate and adapt to climate change. With data inputs as far back as the 1980s, Digital Earth Africa services such as Water Observations from Space can be used to identify long-term trends and changes over time.   
Digital Earth Africa is a cost-effective solution for countries interested in setting up a country-led independent national inventory system for their biennial reporting or mitigation and adaptation activities under the Nationally Determined Contributions (NDC) as required under the Paris Agreement.
The impact: Adaptation and Mitigation of climate change 
Mitigation
Mitigation of climate change is reliant upon reducing the concentration of greenhouse gases (GHG) in the atmosphere and is at the heart of the 2015 Paris Agreement. Countries need to  monitor vegetation and soil as carbon sinks, as well as emissions from agriculture, forestry and other land use (AFOLU). 
The platform and services available from DE Africa offer countries an accessible tool to monitor AFOLU emissions and sinks in the landscape, and enable evidence-based decision-making to mitigate impact. Open and accessible analysis-ready satellite data is perfect for preparing forest reference levels and monitoring annual deforestation, afforestation and reforestation activities for all countries in Africa. Radar data, and the full time-series of optical images, overcome the problem of persistent clouds in some countries.
Transparent reporting is a key component of impactful climate action. As part of the Paris Agreement, an enhanced transparency framework has been adopted for countries to report their national greenhouse gas inventory, any progress in implementing their NDC, and climate change impacts and adaptation measures. This reporting is done through Measurement, Reporting and Verification (MRV) tools to estimate emissions and sinks as a result of land use changes. Digital Earth Africa is an ideal platform to rapidly build country-specific MRV tools and national monitoring systems, at a fraction of the cost.  
Assessments that can be conducted using the DE Africa platform and services include; 
Assessment of changes to mangrove systems including extent and condition. 
Monitoring deforestation, reforestation and afforestation.
Preparing forest cover and other land use changes for AFOLU reporting. 
Emissions reductions from Savanna fires by using traditional burning practices.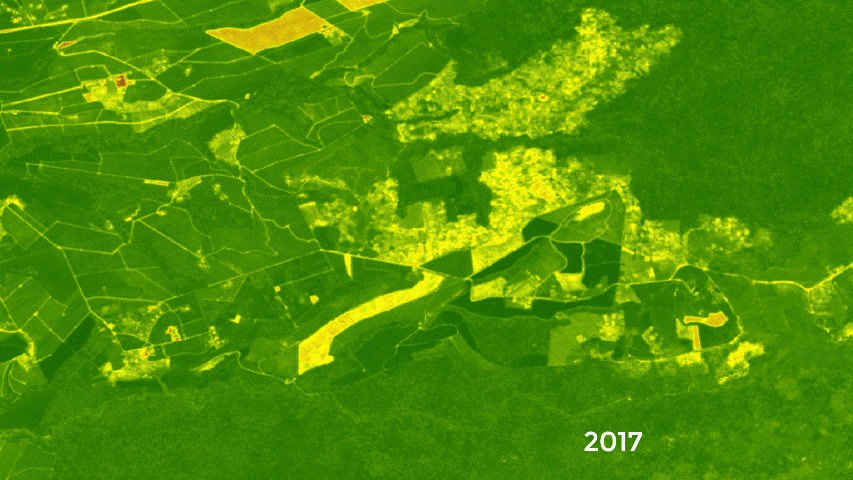 Global datasets on forest and land cover are becoming more accurate and reliable and can be the starting point for national climate reporting. Digital Earth Africa can connect to these global datasets providing easy access for all countries in Africa from the source and without needing to download data. Digital Earth Africa is partnering with NASA/CEOS and other collaborators to provide additional tools and algorithms to generate activity data on land use conversions, compliant with the 2006 IPCC Guidelines for National Greenhouse Gas Inventories.
Learn more about how countries can use the services and data available from DE Africa for climate mitigation in the Insight Report: Empowering Country-Level Climate Action in Africa.
Adaptation
Adaptation is a global challenge and is a key component of the long-term global response to climate change to protect people, livelihoods and ecosystems. The impacts of a changing climate will only become greater, and their consequences more urgent.
The Digital Earth Africa platform allows access to historic satellite data for the entire continent, providing a record of the landscape over the last three decades. This provides governments, industry and researchers with information that is essential to detect changes, make assessments and make predictions of future conditions to inform planning and decision making for adaptation to the changing climate. The platform provides a single place to source data to assess the impact of climate change on coastal systems, infrastructure, water resources, cropping, rangelands, wetlands, urbanisation and more.

For more information on the assessed benefits of DE Africa, read the Insight Report: Empowering Country- level Climate Action in Africa.