A provisional service for the cropland extent map is now available on the Digital Earth Africa Map. It covers the entire African continent, including Madagascar, Mauritius, Reunion and Comoros. The service shows the presence or absence of crop for a 10 metre pixel resolution, and is the product of continental-scale collaboration.
Consistent access to sufficient food is one of the biggest challenges facing the African continent. 33.8 million people are living with acute food insecurity in East Africa alone, and a growing population paired with decreasing food production mean predictions are that Africa will be fulfilling only 13% of required food production by 2050.
The ability to detect the presence of cropland will empower governments to understand their countries' food supply potential, and to effectively plan food purchasing or supply chains from data-driven insight. Private sector industries, such as insurance agencies, could use the map to understand the patterns from the past and can help predict risk for their customers.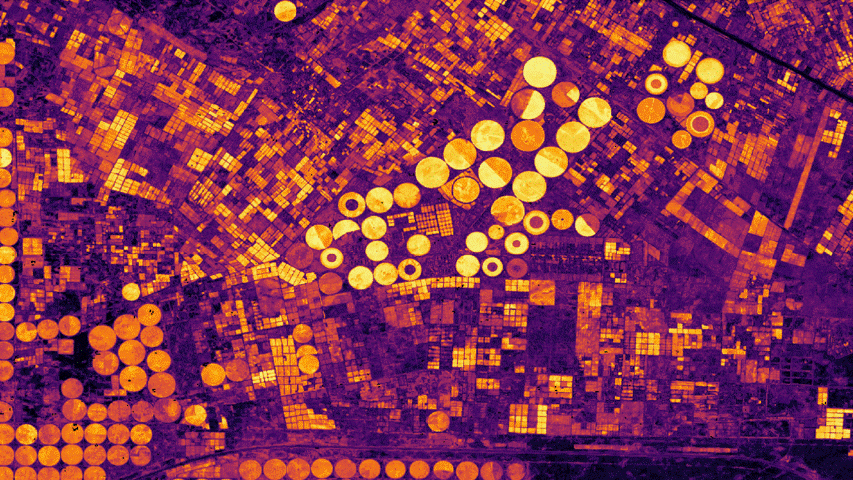 Probability of cropping in the Nile Delta, with yellow indicating crops, processed by Digital Earth Africa.
This data will help even non-technical users to understand the spatial footprint of crop growth across Africa. Unlike other continents, Africa does not have a great deal of large scale agriculture, instead trending towards smaller cultivation areas. Therefore it is much harder to observe and predict cropland extent. This service has broad coverage focusing on consistent quality for all countries.
The Cropland Extent Map provides an indication of the presence or absence of crops and provides a reliable fundamental layer to understanding dynamics of crop activities. It can be used to underpin models of crop productivity, crop types or watering intensities when combined with other datasets. This service provides an accurate, high resolution map with regular updates for the African continent.
Learn more about how companies such as Big Data Ghana, are integrating Digital Earth Africa data into their new GAIMS platform used to monitor agriculture in Ghana here.
The current coverage includes;
Eastern: Tanzania, Kenya, Uganda, Ethiopia, Rwanda, and Burundi.
Western: Nigeria, Benin, Togo, Ghana, Côte d'Ivoire, Liberia, Sierra Leone, Guinea, and Guinea-Bissau.
Northern: Morocco, Algeria, Tunisia, Libya, and Egypt.
Sahel: Mauritania, Senegal, Gambia, Mali, Burkina Faso, Niger, Chad, Sudan, South Sudan, Somalia, and Djibouti.
Southern: South Africa, Namibia, Botswana, Lesotho, and Eswanti.
Central: Angola, Democratic Republic of the Congo, Congo, Gabon, Cameroon, Equatorial Guinea, and Central African Republic.
Indian Ocean: Madagascar, Mauritius, Reunion, and Comoros.
For more detail view the product details on Digital Earth Africa Docs.
This video demonstration shows users how to run a sandbox notebook for measuring crop health