Our first operational data uses images captured by the European Commission Copernicus Sentinel-2 satellites. The twin Sentinel-2 satellites, launched in 2015 and 2017, provide multi-spectral optical observations at a spatial resolution of up to 10 metres. Since early 2018, the pair of satellites have been acquiring images over most of the land surface every five days. This creates a time-deep data resource that can be used to inform a variety of services.
We provide a time-series of Sentinel-2 data from 2017 onwards, making available 1.5 million scenes of data over Africa. The data is routinely updated, so anyone across Africa can use it to actively monitor changes to the environment and manage food and water resources.
Sentinel-2 image of the Bazaruto Archipelago, Mozambique. See our gallery for more Sentinel-2 imagery from DE Africa.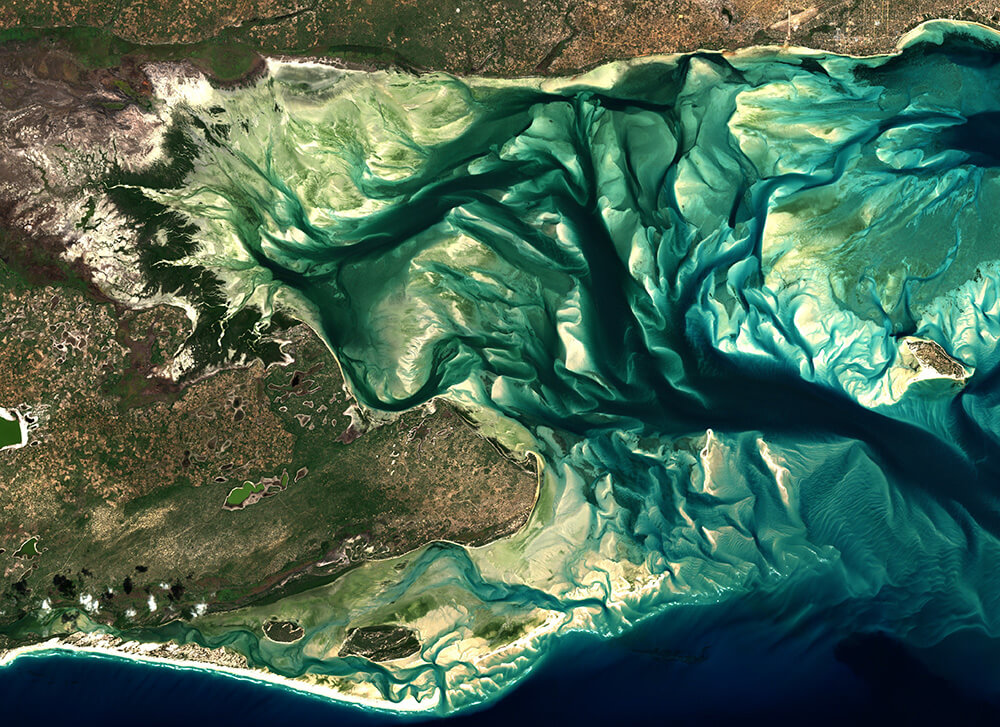 Digital Earth Africa (DE Africa) has partnered with Sinergise and Element 84 to provide this dataset in Cloud Optimised GeoTIFFS (COGs) – an open cloud native format that will enable greater accessibility for DE Africa's users.
Discover for yourself
Sentinel-2 data is open and accessible to all users, regardless of your level of technical competency.
Visit Digital Earth Africa Docs for more information on Sentinel-2 Level-2A Surface Reflectance.
Explore the data in the Digital Earth Africa Sandbox or Map.
Digital Earth Africa provides a free self-paced training course, making Earth observation data accessible to problem-solvers worldwide.
Sentinel-2 data is used to create the GeoMAD and support other services provided by DE Africa.