20 Sep 2021
The Okavango Delta is a dynamic and complex freshwater wetland in Botswana. It changes with the seasons, years and over the course of decades due to its position within a complex landscape, downstream from the highlands of Angola flowing through to the Okavango River. The Okavango Research Institute (ORI) under the University of Botswana (UB) is mandated to carry out research on the Delta as well as support Okavango Delta Management. Dr. Kelebogile Mfundisi from the ORI has been studying Lake Ngami in the Okavango Delta.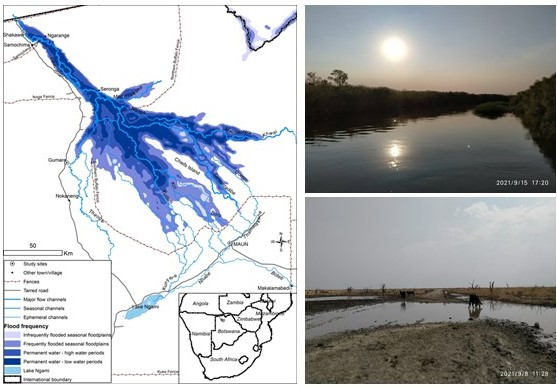 Lake Ngami is located at the western part of the lower Okavango Delta in Botswana (Figure 1). Because it does not naturally drain, it serves as a pertinent indicator of environmental change and the climate variability of the basin. Lake Ngami is an important resource for the livelihood of surrounding communities. It is used for commercial and subsistence fishing and water is used for livestock when levels are high enough. 
Dr. Kelebogile was able to assess water extent over Lake Ngami by applying the Modified Normalized Difference Water Index (MNDWI) to Landsat 8 (2013 to present) and Sentinel 2 satellite images (2017 to present). A similar version of the workflow used here is available for anyone to use in the DE Africa Jupyter Notebook repository. 
The results highlight the variability of water extent over recent years, with exceptionally low levels of water present in the lake during 2019 during a historic drought. By the end of 2019 the lake had completely disappeared and remained empty until late 2021. The latest results (August 2021) highlight that the lake has only partially recovered to earlier levels (Figure 2 and Figure 3).

Digital Earth Africa provides the data, services, and tools necessary to monitor and evaluate very large and complex water systems such as those typified by the Okavango Delta. The results for Lake Ngami indicate the need for an integrated watershed plan that encompasses the Okavango delta. The results provide critical information for sustainable management of the Delta by relevant authorities including Dr Kelebogile colleagues at the University of Botswana, Government of Botswana, Universities in Southern Africa Development Community (SADC) and Civil Based Societies. These results will hopefully engage local policy makers and multidisciplinary stakeholders due to their accessible nature of visualising the problems of the Delta. Dr. Kelebogile words,
"Let us make the Africa we want as we join efforts in the conservation of the Okavango watershed, leave no one behind". 
A new water monitoring service
DE Africa's newly operationalised Water Observations from Space (WOfS) service allows users to understand water presence and dynamics from the 1980s until present. Using the Digital Earth Africa Map, users can load an Annual Summary and 'All-Time' Summary WOfS product. The WOfS Annual Summary is the ratio (%) of wet to clear observations from each calendar year as shown in Figure 5. The WOfS All-Time Summary is the ratio (%) of wet to clear observations over all Landsat observations dating back from 1984 till present (Figure 5).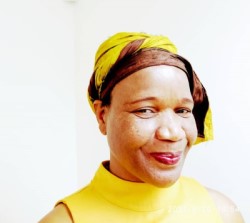 Dr. Kelebogile B. Mfundisi is currently working as a Research Scholar in Physical Geography at the University of Botswana Maun Campus, Okavango Research Institute, Maun, Botswana.  She previously worked as a Senior Lecturer at the Namibia University of Science and Technology, Windhoek, Namibia; Junior Researcher at ZEF, University of Bonn, Germany and World Agroforestry Centre, Nairobi/Kisumu, Kenya.  Her research Career started while she was an undergraduate student at University of Botswana where she worked as a research assistant at Biology Department, Environmental Sciences Department, and National Institute of Development Research and Documentation. Dr. Kelebogile has ongoing research projects namely Ongoing Research Projects: GMES & Africa Project, ORD Multidisciplinary Flood Mapping Project, DLR Science Data Project, Carbon Sequestration and Clean Cookstoves Project, Science Club Project: Mogolokwane Primary School, Phuduhudu and Assessing the Vulnerability of Sitatunga (Tragelaphus spekei) to Climate Variability in the Northern Botswana Wetlands.
Dr. Kelebogile can be reached on email: kmfundisi@ub.ac.bw