24 Jul 2020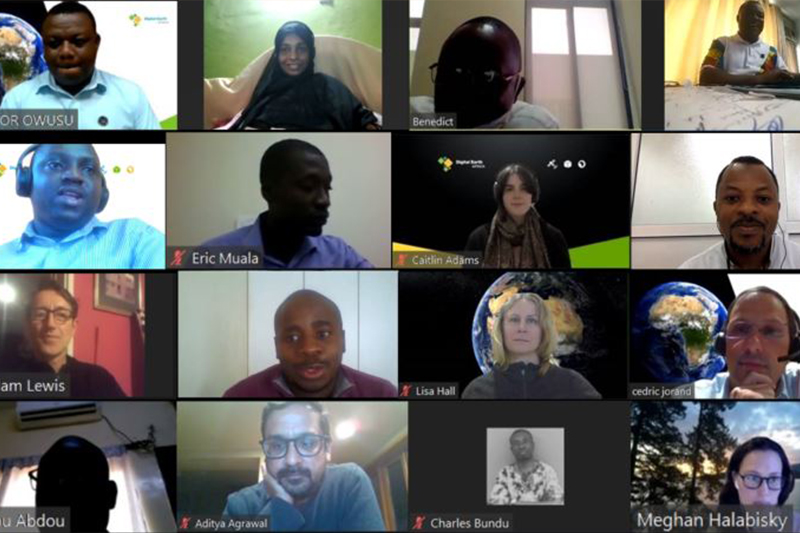 African countries have professed a strong demand for access to Earth observation (EO) data. Even more so, the need for an African-owned and led approach was made evident in the assessed benefits of Digital Earth Africa (DE Africa). The Africa Regional Data Cube (ARDC) that was launched in May 2018 for five countries demonstrated this demand and prompted expansion to all of Africa. DE Africa provides a continental-scale platform that provides all countries with consistent EO data. Based on the commitment and experience with the ARDC, a DE Africa Transition Team was formed to transition users to the new platform. The team share why it's been important to understand users' needs throughout the process.
The transition from a regional to continental platform
Working closely with the Global Partnership for Sustainable Development Data (GPSDD), who led the ARDC initiative, DE Africa has transitioned users and their EO analysis projects to the continental-scale infrastructure. A series of introductory workshops begun in May and rounds of one-on-one interviews with users have been complete. Organizations have included:
State University of Zanzibar, Tanzania
National Bureau of Statistics, Tanzania
Tanzania Data Lab (dLab), Tanzania
Direction de la Planification et de la Veille Environnementale, Senegal
Centre de Suivi Ecologique, Senegal
Direction de l'Analyse, de la Prévision et des Statistiques Agricoles (DAPSA), Senegal
Initiative Prospective Agricole et Rurale, Senegal
Water Resources Commission, Ghana
University of Energy and Natural Resources, Ghana
Ghana Statistical Service, Ghana
Regional Center for Mapping for Resource Development, Kenya
Kenya Space Agency, Kenya
Key to building a platform and infrastructure that works for users is ensuring a solid understanding of what they really want. The user interview process has been important for the DE Africa team to get to know them, their experiences with EO and open data cube technology, their current and future projects as well as their training needs.
Some interesting takeaways from the interview process has indicated that over 70% represent government institutions, nearly 55% conduct analysis at the province or districts level but 62.5% would like to expand their areas of interest to the country level, and the top three UN Sustainable Development Goals that satellite imagery is being used to address by users is 15 (Life on Land), 2 (Zero Hunger) and 1 (End Poverty). 
Understanding how the EO data is being used is equally important for the technical transition, which has involved updating and restructuring the ARDC workflows to the DE Africa platform. The DE Africa interactive coding environment is known as the Sandbox, which is preloaded with useful workflows and code so users don't need to start from scratch. 
Read about some of the use cases that have been transitioned:
How is DE Africa approaching capacity development?
The DE Africa Capacity Development Strategy sets out the principles for a holistic approach that will provide fit-for-purpose training. All capacity building will be demand-driven and impact-oriented, co-created with users and have sustainable outcomes. It will be socially inclusive and for a diverse range of audiences through multiple stakeholder engagement.
As part of the ARDC transition process, DE Africa is developing training material to help users learn about Earth observations, Python programming, the DE Africa Sandbox environment and use of Jupyter Notebooks. Once complete, these resources will be made available for anyone to use.
About the DE Africa Transition Team
The goal of the DE Africa Transition Team is to ensure a seamless transition for users and countries from the ARDC to the DE Africa platform. Working closely with a number of organizations across Senegal, Ghana, Sierra Leone, Kenya and Tanzania, the Transition team will provide users the support and training required to continue their projects on the DE Africa platform with new capabilities and development of new use cases. The team consists of:
Cedric Jorand, Assistant Director Product Development, DE Africa Establishment Team
Edward Boamah, Technical Manager, DE Africa Establishment Team
Aditya Agrawal, Senior Advisor, DE Africa Establishment Team
Kenneth Mubea, User Engagement Manager, DE Africa Establishment Team
Caitlin Adams, Data Scientist, FrontierSI
Sanjay Gowda, Chief Innovation Officer, Analytical Mechanics Associates