22 Jun 2021
Fires continue to have a devastating impact on Africa's landscape with the continent accounting for roughly 70% of the total area burned by fire around the world. 
The 2021 Table Mountain Fire was a significant natural disaster for Cape Town, burning through historic buildings and causing a mass evacuation. The Digital Earth Africa Map is uniquely placed for industry professionals to identify and track fire-damaged areas, highlighting patterns for future predictions. 
By applying Digital Earth Africa's Sentinel-2 false colour data layer and adjusting the time stamp, users can observe the area before and after the fires, gaining further insight into the severity of the impact.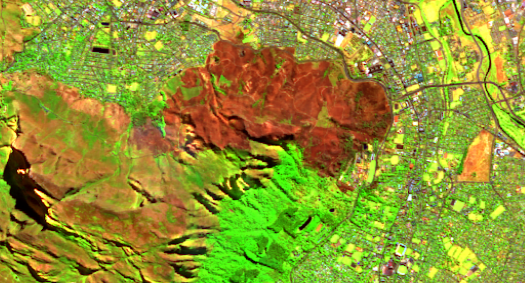 Equipped with this information, policymakers can mitigate the impact of fires across the continent and assess disaster risk reduction.
Want to learn more about fire mapping in Africa? Explore how DE Africa was able to assist in the rapid assessment of the impact of fires in Mount Kenya. Also, dive into the data in action yourself using the Burnt Area Mapping notebook available in the Digital Earth Africa Sandbox.

Expand your geospatial knowledge today with our free training program.