01 Apr 2021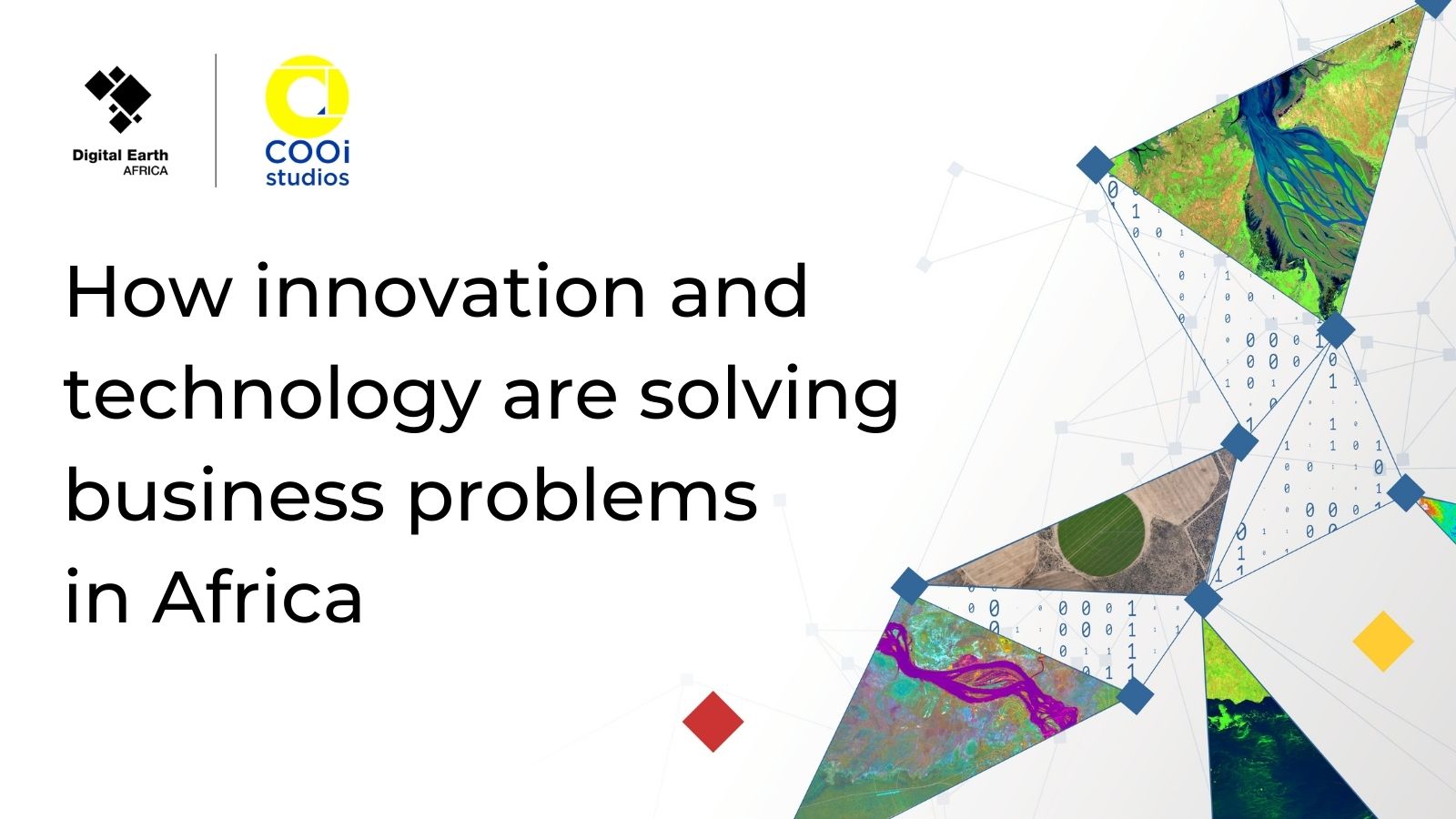 Innovation and powerful new technologies have the potential to spark significant economic growth across Africa. Digital Earth Africa is constantly striving to empower innovators across the continent by providing free and accessible cutting-edge Earth observation data that will help to solve some of the biggest challenges facing Africa – including water management and food security.
With the objective of discovering how Earth observation can drive innovation and growth in both large and small organisations in Africa, Digital Earth Africa is collaborating with FrontierSI, NGIS and COOi Studios to kick off our collaborative Industry Engagement Study.
At the beginning of the Study, we sat down with COOi Studios' Principal Consultant, Kealeboga Lenyibi to discuss how innovation and technology are providing solutions to a range of business obstacles.
Innovation as a driver of growth
'In the African business landscape,' Kealeboga explains, 'there is a huge opportunity to drive inclusive growth through innovation.'
The combination of a young population and the growing adoption of technology provides a backdrop for businesses in Africa to leverage digital innovation, attracting a younger audience and increasing their customer base. Kealeboga explains that by inviting young innovators to the table, businesses will: 'open their doors to a more profitable and competitive landscape, enhancing their ability to gain a competitive edge and boosting economic growth'.
The barriers to innovation and how to overcome them
While innovation and technology present areas of enormous opportunity, there are also common barriers that must be assessed and confronted by leaders in organisations. Kealeboga described that these include: 'strategic, cultural, political and economical issues - and are often heavily impacted by the activity of high-level management.'
'The overarching issue that is typically overlooked,' she explains; 'are the behaviours of the senior leadership team towards innovation.' To overcome these barriers, it is crucial that leaders in organisations are forward-thinking and 'remain welcoming to the notion of new concepts, rejecting the initial hostility that may arise from the unknown.'
Kealeboga goes on to say that 'day-to-day operations and decisions by the senior leadership team can play a major role in enabling or disabling innovation in an organisation'.
Capacity development and Earth observation
At the heart of Digital Earth Africa's work, capacity development is a key part of overcoming obstacles and enabling innovation. As Kealeboga explains, 'an approach that specifically looks at capacity building for innovation in Africa promotes the development of technological, organisational and process innovations that add value to organisations, and enable individuals to think about and view things differently, and to apply new or different tools to existing processes.It also enhances collaboration among stakeholders in the innovation ecosystem.'
Digital Earth Africa's capacity development program is a vital part of the work that we do to make Earth observation more accessible across the African continent. To find out more, tune in to our latest webinar.
The collaborative Industry Engagement Study
Outlining the key impacts of the study, Kealeboga says: 'the Industry Engagement Study will boost innovation and the use of Earth observation data'. She explains that this will happen in phases, firstly by 'raising awareness of the data that is available from DE Africa', then by enabling users to understand opportunities and barriers to using satellite technology, the study will 'empower organisations to adopt the data and innovate'.
The Digital Earth Africa Establishment Team is inspired by the initial findings of this collaboration and we endeavour to continue to enable innovators across Africa.
The scoping phase of this collaboration is set to run until June 2021, with the broader industry engagement plan set to follow. If your organisation would like to take part, then please email: info@digitalearthafrica.org
About Kealeboga Lenyibi
Kealeboga Lenyibi is an Innovation Principal at COOi Studios. She is an MBA graduate from Hult International Business School in Boston USA, where she majored in business analytics and because of her passion for social impact, she was involved in several pro-bono consulting projects for start-ups both locally and internationally. Prior to pursuing her business degree, she was a Chemical Engineer at Glencore for over 5 years. Kea held several roles as a Junior Chemical Engineer and Chemical Process Engineer where she was responsible for optimizing safe and efficient production according to a company's safety, health, environmental and quality standards. She is also the Founder of Kingdom Kids Foundation which is a foundation that is responsible for conducting fundraising activities and raising orphaned and vulnerable children to become leaders in society.