18 Oct 2021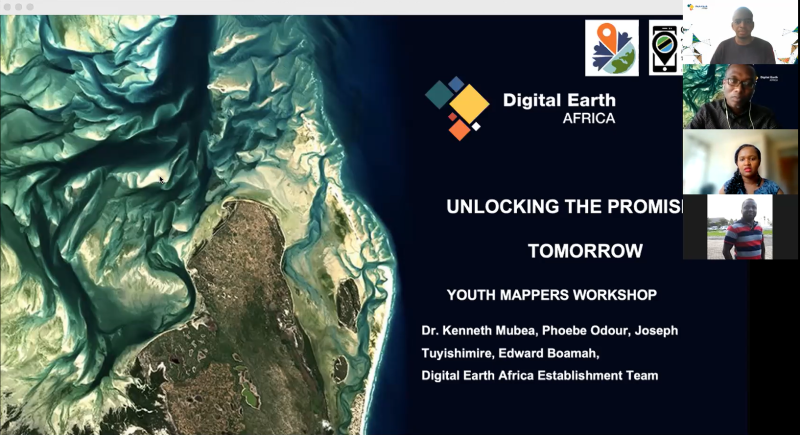 Digital Earth Africa was invited to present to a group of young people who are passionate about using geospatial technologies to create data in places of extreme poverty. These young people are part of the YouthMappers network whose mission is to cultivate a generation of young leaders to create resilient communities and to define their world by mapping it.
The workshop was a great opportunity to introduce such a wonderful group of young people to the Digital Earth Africa platform, services and tools. 
The session was well attended by YouthMappers from Tanzania, Uganda, Ethiopia, Kenya, Libya, India and the Philippines. The participants were given an overview of the DE Africa platform including demonstrations on the DE Africa Maps and Sandbox. Most of the participants were new to DE Africa and expressed a lot of interest in its application in agriculture, water, urbanisation and forest management. There was also interest in accessing DE Africa using the DE Africa API in GIS software such as QGIS and Esri. 
Innovation that leaves no one behind
This workshop was an important initiative that contributed towards DE Africa's activities and approach to advancing gender equality, diversity and social inclusion in line with our vision and mission.
As part of the workshop, Phoebe Odour from the Regional Centre for Mapping of Resources for Development (RCMRD) presented on Gender Equality, Disability and Social Inclusion (GEDSI) as part of Digital Earth Africa. She mentioned the monthly GEDSI meeting which takes place with gender experts from DE Africa Implementing Partners, including:
As well as YouthMappers Regional Ambassador – Laura Mugeha. 
Using Digital Earth Africa in practice
The workshop was successful in demonstrating the potential of the DE Africa platform to participants by showing examples of how they could use it for their own analysis. Most participants were aware of the DE Africa platform but only some had used it before. Participants left the session with some practical ideas of how to use the platform and most expressed interest in the DE Africa online training to continue building their skills.
Laura Mugeha – YouthMappers Regional Ambassadors gave a vote of thanks on behalf of the YouthMappers and indicated that: "youth are critical in driving the usage of Earth observation across all sectors and help in making informed decisions on sustainable use of natural resources."
View the recording of the event on the DE Africa YouTube Channel here. 
For further information email us at info@digitalearthafrica.org