23 Sep 2022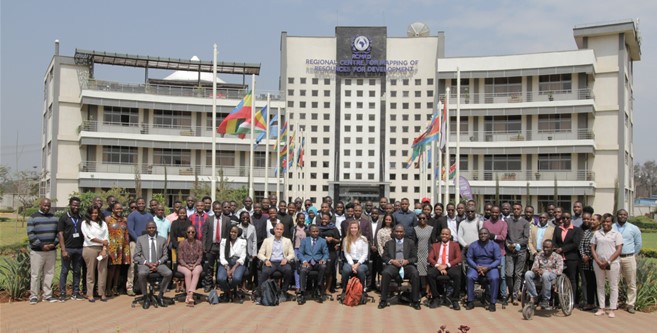 Digital Earth Africa (DE Africa) was honoured to participate at the fifth Regional Centre for Mapping for Resources for Development (RCMRD) International Conference (RIC2022) from 6-8 September in Nairobi, Kenya. The conference attracted  over 800 participants from government, academia, non-governmental organisations (NGOs), and media, the theme for this year's conference was Earth Observation Services for Resilient Social Systems.
Partnering as gold sponsors, DE Africa made remarks in key sessions, and engaged with participants in several side events, including a pre-conference training on 5 September, which had over 100 participants in attendance.
"Digital Earth Africa began at the 2019 RCMRD conference, with the strong partnership from RCMRD member States, Geoscience Australia, Global Partnership for Sustainable Development Data and representatives from Ghana, Kenya, Senegal, Sierra Leone, Tanzania and United Nations Economic Commission for Africa (UNECA), said Dr Thembi Xaba, DE Africa Managing Director. Further, Dr. Xaba observed that the RIC2022 attracted diverse delegates from several countries in the field of earth observation, notably the youth and women.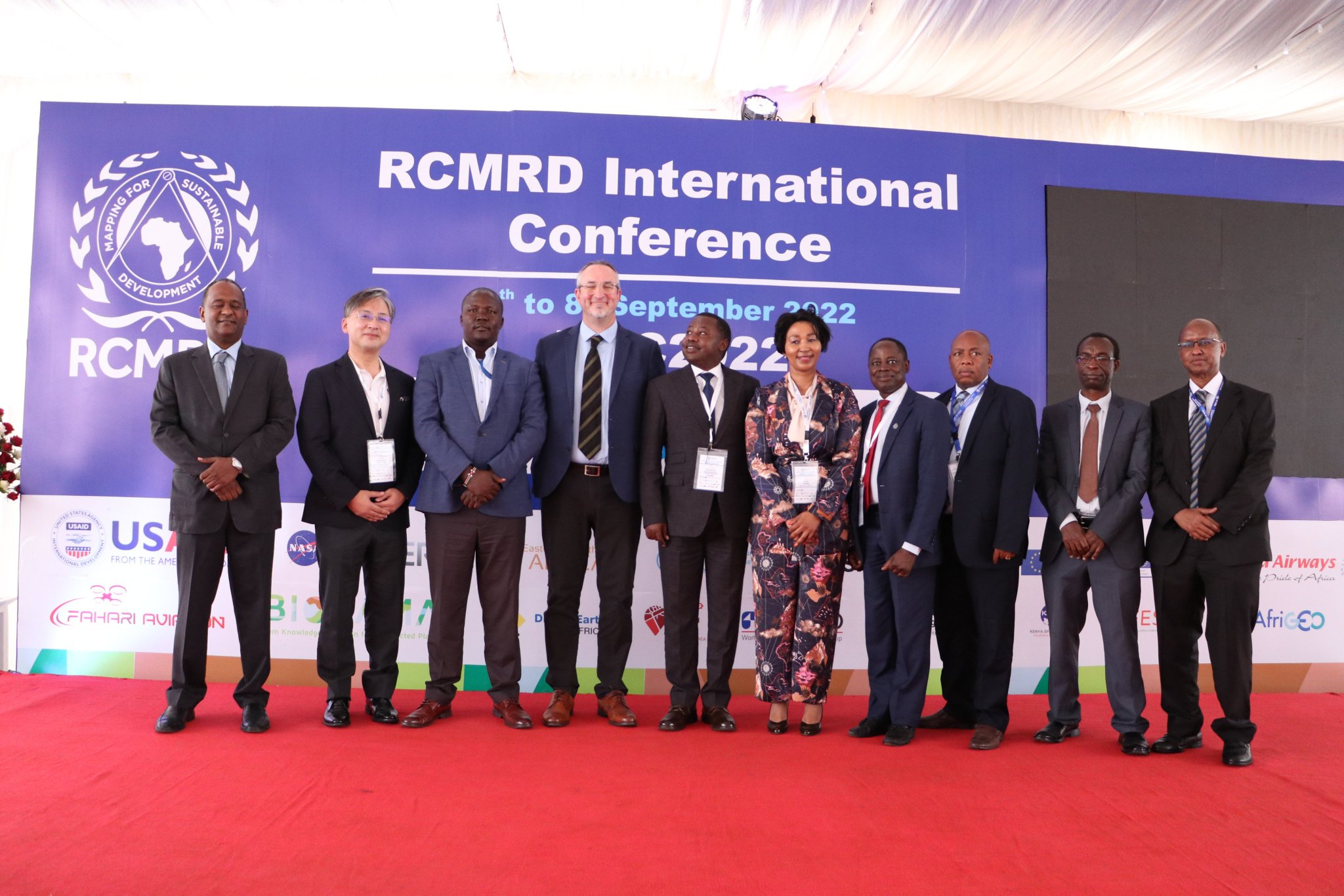 DE Africa presented several academic papers including:
Water Assessment and Monitoring in the Lake Ngami

, Lower Okavango Delta, Botswana, highlighting the impacts of climate change as shared by Dr. Kelebogile Mfundisi; Empowering national agencies with information for Agriculture, presented by Dr. Kenneth Mubea (DE Africa); 

Food Security and Water, Monitoring forest loss using Sentinel 2 Geomedian and Water Observations from Space

, presented by Edward Boamah (DE Africa); 

Monitoring Coastlines from Space: Validation of early results from Digital Earth Africa

, presented by Joseph Tuyishimire (DE Africa), and 

An Open-Source Framework for Crop Type Mapping in Africa,

presented by Julius Buyengo (RCMRD).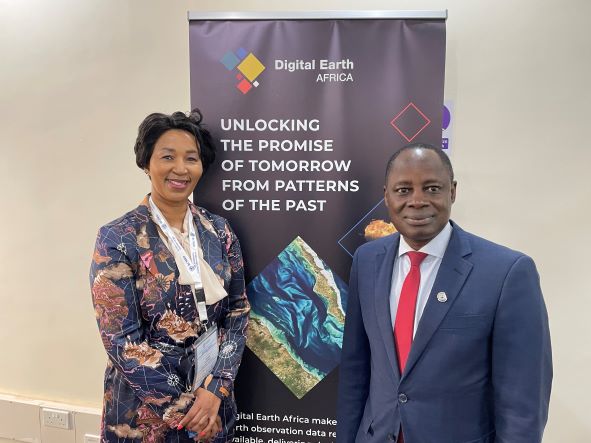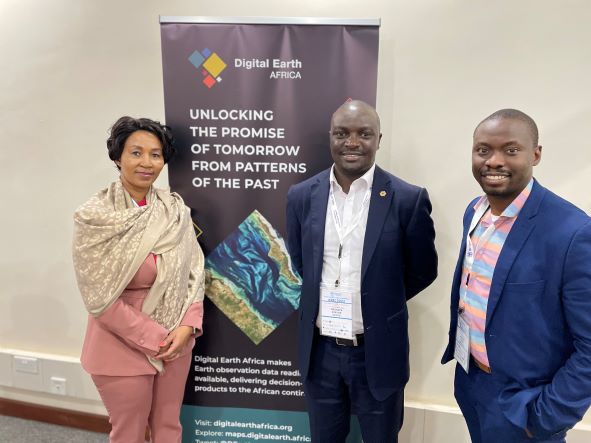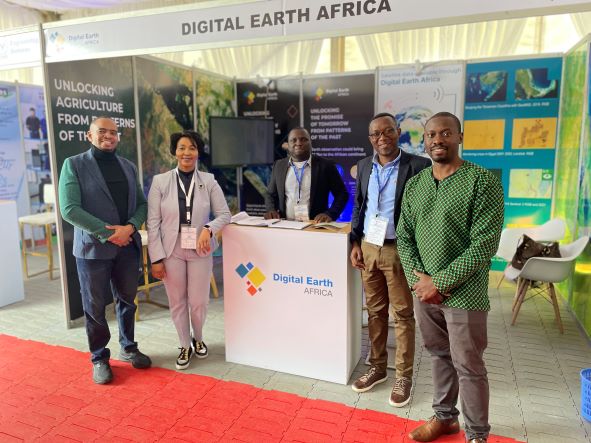 Over 100 participants visited the Digital Earth Africa exhibition booth during the days of conference, and over 40 people joined the information session hosted on the last day of the conference. We valued the opportunity to meet with key stakeholders and partners such as Mr Andre Nonguierma from the UN Economic Commission for Africa, and Mr Meshack Nderitu from the African Union Commission.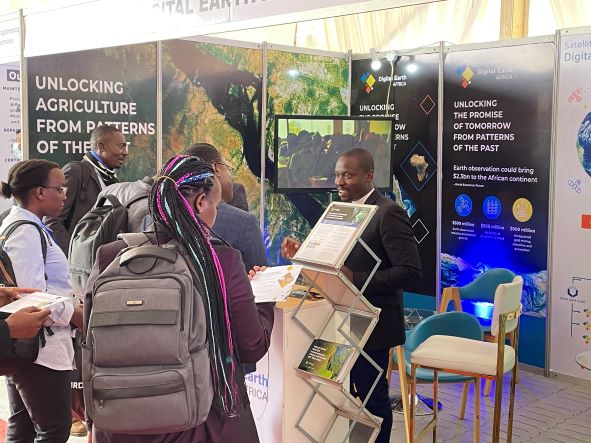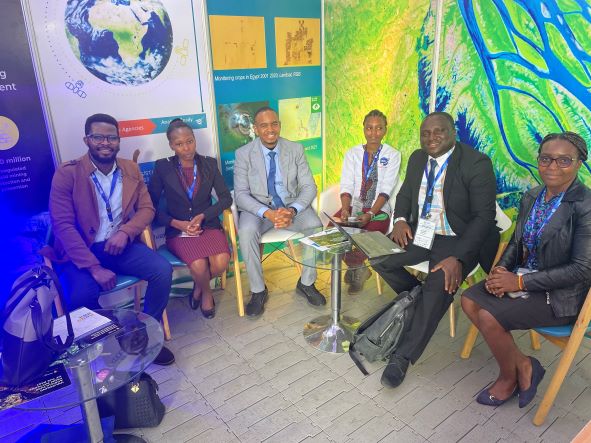 We express gratitude to RCMRD for organising a successful conference and look forward to ongoing engagement. We thank David Ongo from RCMRD and the DE Africa focal point for his support leading up to and during the event. Most especially would like to thank Dr Emmanuel Nkurunuziza for his hospitality and congratulate him on a successful RCMRD International Conference. We look forward to the next one.
We look forward to hosting in-country capacity building events in the coming months further strengthening our partnership with RCMRD. 
DE Africa continues with its mission of empowering countries across Africa with Earth observation to enable climate adaptation and mitigation, greater food security and more sustainable development. DE Africa provides free access to its platform and training materials.
Website: https://www.digitalearthafrica.org Email: info@digitalearthafrica.org Please sign up for the free  learning courses on: https://learn.digitalearthafrica.org.
Stay tuned to updates on social media: (3) Digital Earth Africa (@DEarthAfrica) / Twitter on Twitter and Digital Earth Africa | LinkedIn via LinkedIn.