23 Jun 2022
Digital Earth Africa was delighted to attend and sponsor the inaugural Kenya Space Expo and Conference 2022. It was an excellent event and a great opportunity to expand awareness of the Digital Earth Africa tools and services. The event was attended by over 900 participants from government, space agencies, academia and civil society, including space enthusiasts and students alike. 
As a sponsor of the event, Digital Earth Africa hosted a booth where the team showcased tools, services and a range of resources to enhance the capacity of our users. It was great to meet some of the DE Africa users in person as well as make new connections to continue growing the community. 
The event also provided an excellent platform to connect with our partners, innovators, mentors, and policy makers focused on supporting sustainable development, supporting national development and reporting on their impact towards the Sustainable Development Goals. 
The DE Africa team was joined by the Regional Centre for Mapping of Resources for Development (RCMRD) who assisted with our booth. David Ongo featured on a panel on the Applications of Earth observation in Natural Resource Management. Dr Tidianne Outtara from the DE Africa Governing Board delivered a keynote speech on Opportunities & Challenges for the Space Sector in Africa.

Images from left to right: Image 1 Renandi from SANSA with Zviko. Image 2 Ken with his former students Esther, Olivia and Wisdom. Image 3 Philip Thigo from the DE Africa Technical Advisory Committee. Image 4 Ken with friends from Kenya Forest Service and David Ongo from RCMRD. Image 5 Kenneth Kasera from RCMRD, Mrs. Husna A. Mbarak from FAO, and Ken from DE Africa. 
Dr Kenneth Mubea presented on a panel on Emerging Technologies in Earth Observation. Ken presented on the DE Africa commitment to empower countries across Africa with Earth observation to enable climate adaptation and mitigation, enhance food security and ensure sustainable development. He also focused on how DE Africa continues to provide routine, reliable and operational services to deliver decision-ready products to our users. These services enable policy makers, scientists, the private sector and civil society to address social, environmental and economic challenges across the continent. They also support innovation by providing a reliable ecosystem of data and services that users can draw from to build systems.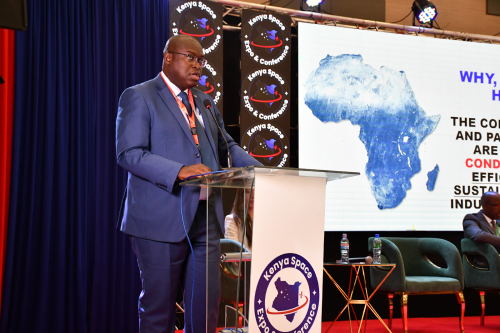 Learn about how Big Data Ghana are integrating DE Africa's open and analysis ready data into their GAIMS platform.
Learn more about how Ghana Statistical Service are embedding DE Africa into their systems and approaches to ensure the National Statistical System is guided by principles and international standards in Earth observation. 
The DE Africa team would like to thank everyone who visited us at our booth, our partners who helped expand the awareness of DE Africa and the team at the Kenya Space Agency for hosting such a great event. We look forward to the next one.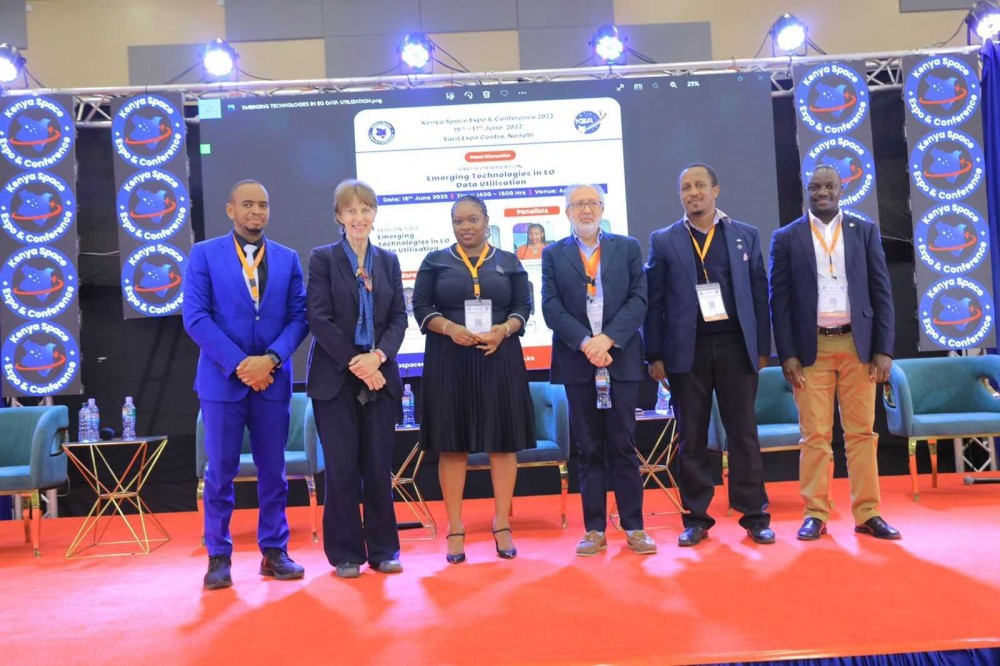 DE Africa at the Emerging Technologies in Earth Observation Session with Dr. Kenneth Mubea – DE Africa, Prof. Jacqueline McGlade – Strathmore University, Vivianne Metta – LocateIT, Prof. Giovanni Laneve – Sapienza University of Rome, Dr. Kuria Thiongo – Dedan Kimathi University of Technology, Meshack Nderitu – GMES in Africa.