15 Dec 2021
At Digital Earth Africa, our mission is much more than providing data services. We aim to build a strong community of DE Africa users that is founded on support, training and a mutual passion for solving problems using Earth observation. Recently, DE Africa launched the Learning Platform, featuring a new 'Intro to Sandbox' course designed to educate users on how to best use the Sandbox for analysis and use case development. We are delighted that we have now issued our first certificates for this new Platform.
We talked to recently certified user Ingrid Martha Kintu from Uganda about her career in GIS and Remote Sensing and how she is using the Digital Earth Africa platform and services to help her achieve her goals at work.
Get to know Ingrid
Ingrid is a GIS and Remote Sensing Analyst based at the Department of Geography, Geo-Informatics and Climatic Sciences at Makerere University in Kampala, Uganda. She is focused on projects that aim to address environmental change in Kyaka II, Bidi Bidi and Kyangwali refugee settlements in Uganda.
Ingrid chose to pursue a career in geospatial analysis because of the potential for geospatial information to address a multitude of issues, and its increasing applications to inform policy and decision making. She appreciates the use of geospatial data and technologies to better understand the world:
"I envision myself to be in a position where I can effectively use my skills and knowledge to provide long-term sustainable solutions to real-world environmental challenges on the African continent," she explains.
Ingrid is passionate about addressing real-world challenges with accessible Earth observation tools, using open data and free and open-source software (FOSS). She is an avid promoter of FOSS technologies, using her work with YouthMappers to provide support and geospatial training to university groups/associations in the East African region – including Uganda, Tanzania, Somalia, Eritrea and Ethiopia.
Completing the 'Intro to Sandbox Course'
Ingrid came across DE Africa whilst attending a pre-conference workshop, hosted by DE Africa, at the Advances in Geomatics Research Conference in October 2021. She decided to undertake the 'Intro to Sandbox' course to learn some new skills and familiarise herself with the free geospatial technologies that enable her work as a GIS and Remote Sensing Analyst.
She says: "I am very keen on staying abreast with geospatial technology and this training provided the necessary skills to improve my EO analyses for natural resources management."
Using the DE Africa Platform and Tools 
When asked what the most useful tools on the platform were, Ingrid answered: "there are so many great tools it's difficult to choose just one." The vegetation and urban change detection tools are the most useful to her current work. She can see their potential for analysing the impact of anthropogenic activities on ecosystem services and natural resources. The Cropland Extent Map was another tool she complimented for its utility in analysis of crops and informing food security concerns. 
DE Africa at Work
In the past, access to cloud computing was a challenge for Ingrid. The services available from DE Africa enable Ingrid to reach her goals at work without the need for expensive tools. Ingrid complimented DE Africa for the timely support and training that's available that helped kick start her use of the Sandbox. She now enjoys the flexibility of the Sandbox for use across multiple types of analyses and the ability to customise tools if she needs. 
Ingrid plans to use the platform to study vegetation change dynamics in the Kyoga Water Management Zone (KWMZ) in Eastern Uganda as part of a MAK-RIF funded project entitled Developing Climate-Smart Watersheds: An improved nexus for sustainable water resources and societal resilience to climate change in Uganda's fragile landscapes. 
Digital Earth Africa is excited to see engaged users such as Ingrid completing the new 'Intro to Sandbox' course on the Learning Platform and continue to use the Platform and tools available as part of her work. 
Learn more about the new Learning Platform and the 'Intro to Sandbox' course now available in English and French. 
Discover the user community and support for Digital Earth Africa users at our Help Desk here.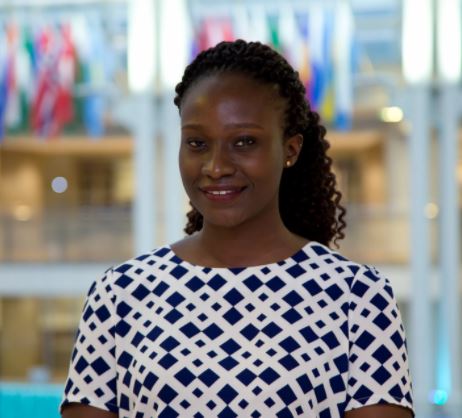 Ingrid Martha Kintu is a GIS and Remote Sensing analyst based in the Department of Geography, Geo-Informatics and Climatic Sciences at Makerere University in Kampala, Uganda. She holds a BSc. in Land Surveying and Geomatics and is working toward a MSc. in GIS and Earth Observation for Environmental Modelling and Natural Resource Management from Lund University and the University of Twente (ITC).