17 Jul 2023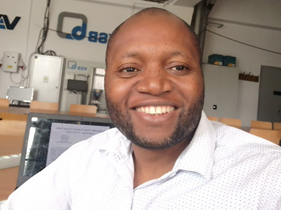 In the vast landscapes of Burkina Faso, a dedicated geoscientist is making a profound impact on the safety and sustainability of dam water resources. Meet Rodrigue, a 15-year veteran with a wealth of experience in natural resources.
Hailing from the University of Dschang in Cameroon, Rodrigue's academic journey started with geology and eventually led him to specialize in hydrogeology. With a strong background in these disciplines, Rodrigue embarked on a career that traversed the realms of public, private, and non-governmental organisations.
Rodrigue's quest for knowledge and his unwavering appetite for learning prompted him to broaden his horizons. In 2012, he pursued further education at the prestigious Universities of Johannesburg in South Africa and Curtin in Australia. There, he delved into the intricacies of sustainability in mining and industry, honed his mining management and regulations skills, and eventually became a valuable staff member and knowledge-sharer at the University of Ngaoundere in Cameroon.
However, Rodrigue's thirst for knowledge did not stop there. Realising the critical need to monitor dam water resources for safety and sustainability, Rodrigue took a leap of faith and enrolled in a PhD program. He aimed to utilize his expertise to protect communities and ecosystems from potential disasters caused by inadequate dam management.
Through his extensive studies, Rodrigue discovered the Digital Earth Africa (DE Africa) platform. Recognising its potential, he embraced this cutting-edge technology as a powerful tool for monitoring dams in Burkina Faso. With the platform's satellite imagery and advanced analytics, Rodrigue gained real-time insights into the state of dam walls, allowing him to take proactive measures to ensure their safety.
Rodrigue's impact extends further, as he is not only a co-author of a well-regarded book in hydrogeology but also a contributor to numerous scientific articles. His dedication to developing and transmitting knowledge showcases his passion for fostering efficient learning and contributing to the well-being of organisations and populations.
As Rodrigue continues his journey as a geoscientist, his unwavering commitment to the safety and sustainability of dam water resources remains at the forefront of his work. Rodrigue is paving the way for a brighter future in Burkina Faso and beyond through his expertise, his role as a knowledge-sharer, and his utilisation of innovative technologies like DE Africa. Click here to see his work in Monitoring dams in Burkina Faso using Digital Earth Africa 
Would you like to be featured by Digital Earth Africa? Click here to share your User Impact Story
About Digital Earth Africa:
Digital Earth Africa is a leading platform that harnesses the power of satellite imagery and geospatial data to address the continent's most pressing challenges. By providing free and open access to reliable information, DE Africa empowers governments, researchers, and organisations to make informed decisions, drive sustainable development, and create a prosperous future for Africa.