21 Aug 2019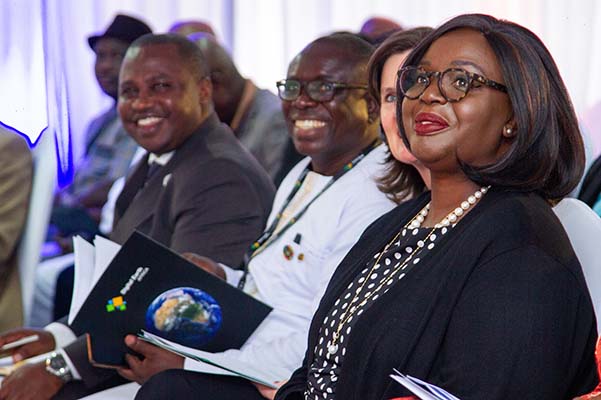 Digital Earth Africa (DE Africa) had the pleasure of hosting 150 stakeholders for a day of innovative discussions on the importance of Earth observation (EO) for addressing key issues across Africa. 
With a full agenda and over 30 speakers, the event demonstrated the immense potential of spatial information in shaping the future of Africa. Attendees received an introduction into the capabilities of data cube technology, analysis-ready data and the challenges and opportunities in using EO for the African continent.
DE Africa will play a key role in translating data into information that will enable governments, industry and business to make informed decisions about agriculture, deforestation, desertification, water quality and changes in human settlements.  
Political leaders advocate for DE Africa
Image (L-R): Oliver Chinganya, Dr. Emmanuel Nkurunziza, Australian High Commissioner Alison Chartres, Ambassador Raychelle Omamo 'SC', Hon William Kwasi, Hon Mamadi Gobeh Kamara and Dr. Korir Singoei.
The much-needed insights from DE Africa will benefit policy makers and public officials to make better decisions. To share high-level perspectives on the need for DE Africa, welcomed to the stage was keynote addresses from diverse political backgrounds. 
Oliver Chinganya, Director of UNECA's Africa Centre for Statistics, discussed the idea for a 'Geospatial Data Revolution'.
Australia plays a key role in the success of DE Africa, offering support through funding and technical capacity building. Alison Chartres, Australian High Commissioner to Kenya, Tanzania, Uganda and Rwanda explained how the Australian innovation behind Digital Earth Australia will be used to help Africa face its sustainability challenges.
To ensure that vital global observations are analysis ready and accessible, DE Africa will rely on support and partnership across government. To represent African leaders, Hon William Kwasi, Deputy Minister for the Republic of Ghana, Hon Mamadi Gobeh Kamara, Deputy Minister, Republic of Sierra Leone and Ambassador Raychelle Omamo 'SC', Cabinet Secretary for Defense, Republic of Kenya all shared their visions for the future of DE Africa.
"The utilization of this data will be key to the attainment of the Sustainable Development Goals (SDGs)…We need to fast-track the data revolution to provide the right information, at the right time and make it universally accessible to all." – Hon William Kwasi.

"We need to work together will all stakeholders in data for development and ensure that we build a strong and enduring partnership one with commitment and full-on actions required to unlock access to crucial data and information." – Hon Mamadi Gobeh Kamara.

"Space technologies can enable governments in Africa address climate-related challenges: to better understand crop distribution, changing seasons, and use of agricultural land in rural areas; as well as better protect its forests and water towers." – Ambassador Raychelle Omamo 'SC'.
The team behind DE Africa Day
The delivery of an engaging agenda and the opportunity for participants to learn, network and share opinions was a testament of the collaboration and hard work from a number of people. The DE Africa Establishment Team, led by Geoscience Australia, worked closely with partners to ensure all voices were part of the conversation. From facilitation and presentations, product development and demonstrations to communication, event coordination and travel arrangements, the day's success is a result from the program's multi stakeholder approach.
Held on the sidelines of the Regional Centre for Mapping and Resources Development International Conference on Monday 12 August in Nairobi, DE Africa Day facilitated an open dialogue into the theme 'Earth Observation for Evidence-Based Decision Making'.
If you missed DE Africa Day but would like to get involved you can subscribe to our stakeholder list for future updates. If you're on Twitter you can catch up with the hashtag #DEAfricaDay.
See the full image gallery
View and download all the photos from DE Africa Day.