30 Mar 2020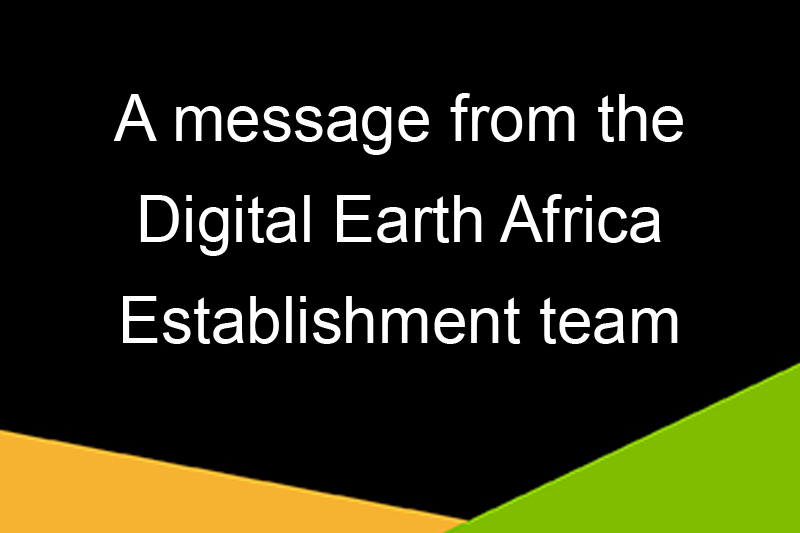 The Digital Earth Africa (DE Africa) team would first like to send our thoughts and best wishes to everyone in these difficult times, no matter where you are in the world the global COVID-19 situation has impacted us all and we hope you and your families are safe and healthy.
As with all projects, businesses and agencies, we're working to adapt to this new challenge where travel restrictions and the cancellation of events has made it difficult to plan engagement activities. We wanted to share how we will continue to move the program forward.
Fortunately, the DE Africa team is global and already set up to continue as a remotely based team. The development of DE Africa infrastructure is done in a virtual environment, which means our technical program work including product development can continue as planned. Similarly, strategic program planning and implementation can also continue.
We will however be required to rethink our capacity development program, and to offset delays in face-to-face training we will prioritise virtual training and online resources. A positive of this is a much wider range of users across Africa and globally will be able to access these.
While the cancellation of major meetings has already affected our ability to engage with you all face-to-face, it will inherently enable us to fast track our media engagement plan and enhance our online content and resources. We're already seeing many conferences going virtual, which provides us the chance to participate in a wider range of events.
The increased focus on digital communications also provides us an opportunity to address digital infrastructure challenges such as internet connection and low bandwidth. We will continue to work with all of our partners to find new ways of working together, and thank everyone for continued support.
If you have any questions for the team, we encourage you to contact us at DEAfrica@ga.gov.au. From the DE Africa Establishment Team.