26 Jun 2020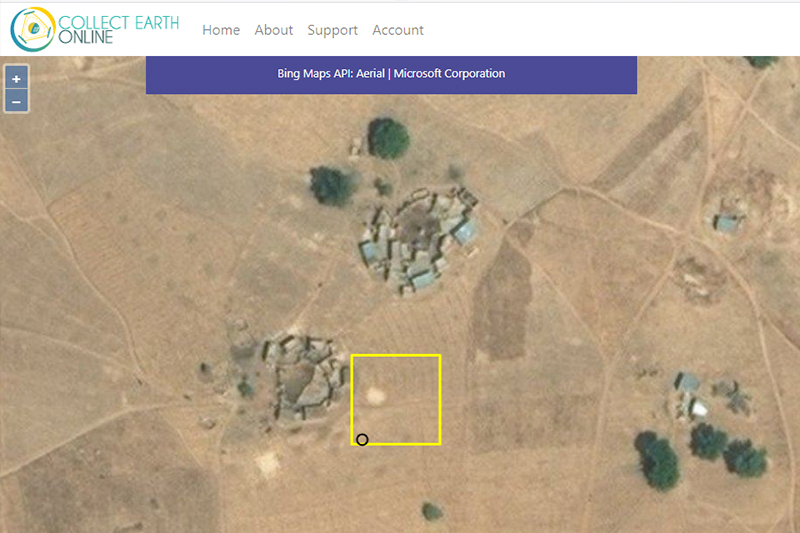 Open and free data that fosters collaboration across diverse perspectives are driving principles of Digital Earth Africa (DE Africa), and we look to solutions that help achieve this across every facet of the program. Thanks to the support of SERVIR – a joint NASA and USAID initiative – the Collect Earth Online (CEO) tool has done just that by removing barriers to operationalizing the DE Africa validation strategy.
On 28 and 29 May, DE Africa hosted a virtual two-day workshop to kick-start the data validation of our first continental-scale product, Water Observations from Space (WOfS). The DE Africa Data Validation Task Team consists of Africa-based partners across geographic, institutional and disciplinary boundaries, which required the team to engage online. CEO is the image viewing and interpretation tool that the DE Africa implementing partners will use to conduct robust assessments collaboratively, providing an effective solution to assess accuracy and validate DE Africa products and services.
CEO is an open source tool for projects that require land cover and land use reference data. It enables experts with minimal background in remote sensing to consistently locate, interpret and label reference data of any area and provides easy to use features for rigorous data analysis. Similar to the Open Data Cube concept of DE Africa, CEO is a community of developers who actively share best practice and support for continued maintenance. 
The validation of WOfS using CEO is currently underway. The results of this effort will provide a rich temporal dataset to assess the accuracy of WOfS at the continental-scale and will allow WOfS to become a fully operationalized product.