04 Sep 2019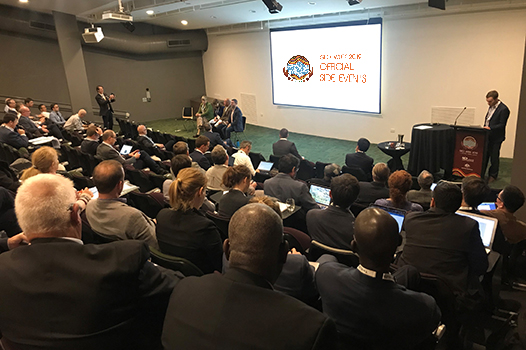 Digital Earth Africa will rely on analysis ready data to ensure efficient time-series analyses and data interoperability. A grand challenge for the Earth observation (EO) community is taking vast amounts of satellite data and turning it into decision-ready products that anyone can use. At a Big EO: Big Data side event as part of the Group on Earth Observation (GEO) Week 2019, a key discussion was the role data providers and aggregators play in addressing this challenge and the call for international coordination.
Reflections from a free access and open source expert
We all want analysis ready data, the question is what will we do with it? Dr Gilberto Camara Director for GEO Secretariat shared some of his reflections, here our three key takeaways:
The zero download model – we can empower users to address environment and development challenges if we can make the data easier to obtain.
A concerted convergence – we need agreement and cooperation between the EO community to move to concerted convergence of platforms for big EO tools.
A new world – analysis ready data is an important starting point for a new world so we need to rethink how we extract information from the EO community and design a standard for data cubes.
Big data opens real opportunities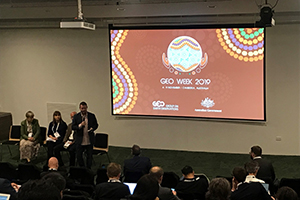 Big EO is going to produce huge global analysis ready data resources, the session took to the panel to share their perspectives and what this means for their organizations:
Joe Flasher – Amazon Web Services Open Geospatial Data Lead:
Sharing data on the cloud means it can be analysed using on-demand computing resources quickly and efficiently. Users can work with the petabytes worth of satellite data without needing to download it or store their own copies, which will significantly reduce the time to insight.
Brian Killough – CEOS System Engineering Office Lead:
Simplifying and standardising global datasets in the form of analysis ready data will be critical to ensuring it provides impact. Now that we have free and open data as well as tools such as the open data cube, we can bring along many more global users.
Virginia Burkett – USGS Chief Scientist for Climate and Land Use Change:
Global analysis ready data will provide significant community capability to perform analysis. With cloud migration, this will revolutionise public access and use of satellite data and holds tremendous potential for improving our understanding of Earth processes.
Astrid Koch - European Commission Senior Expert:
Analysis ready data needs to be user driven and be use as a tool to tackle worldwide problems. We need to deepen our international cooperation to make this a reality.
The Big EO: Big Data event was facilitate by Adam Lewis, Managing Director for Digital Earth Africa and Daniel Wicks Head of Earth Observation at Satellite Applications Catapult and the live stream video is available to watch online.