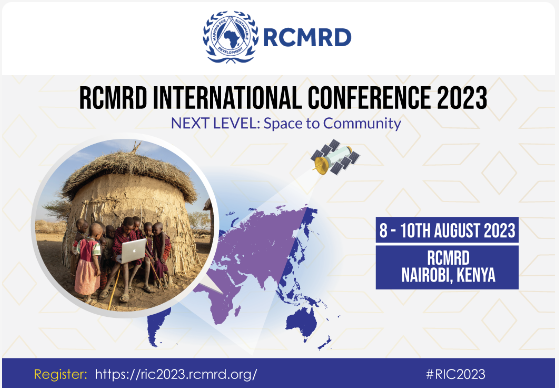 RCMRD International Conference 2023
Dates
08 - Aug - 2023 - 10 - Aug - 2023
About The Event
The theme of the this year's conference will be "NEXT LEVEL: Space to Community".
Key objectives:
To bring together various user domains within and beyond EO to understand the science policy interaction and policy formulation.
To spur ideas around the efficient and effective utilization of various information already accessible for various decision making levels.
To enhance partnerships, collaboration, learning, layering, communication and evaluation approaches for societal benefits.
The conference provides an excellent platform of how geo-science can effectively be used to inform policy. In every aspect of our life, communities at all levels, not only need information access in decision making but also the capacity to use the information and make sense out of it. The information on the earth systems ( the Atmosphere, Hydrosphere, Biosphere, Cryosphere and Geosphere) and the relationship and interaction among them has been generated and shared through various platforms and initiatives focusing on interdisciplinary approach, learning and adaption. The impacts of this interactions of the aforementioned systems have formed the core to most research, data and technologies all geared towards improving the quality of life not only for the present generation but for the future generation as well.