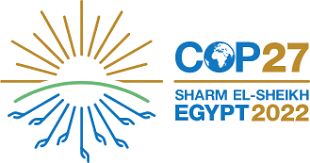 Conference of the Parties - COP27
Dates
07 - Nov - 2022 - 18 - Nov - 2022
About The Event
The 27th session of the Conference of the Parties (COP 27) to the UNFCCC will take place in Sharm El-Sheikh, Egypt.
COP 27 was originally expected to take place from 8-20 November 2021. Due to the COVID-19 pandemic, COP 26 was rescheduled from November 2020 to November 2021. As a result, COP 27 will take place from 7-18 November 2022.
The hosting of COP27 in the green city of Sharm El-Sheikh this year marks the 30th anniversary of the adoption of the United Nations Framework Convention on Climate Change. In the thirty years since, the world has come a long way in the fight against climate change and its negative impacts on our planet; we are now able to better understand the science behind climate change, better assess its impacts, and better develop tools to address its causes and consequences.