06 Sep 2023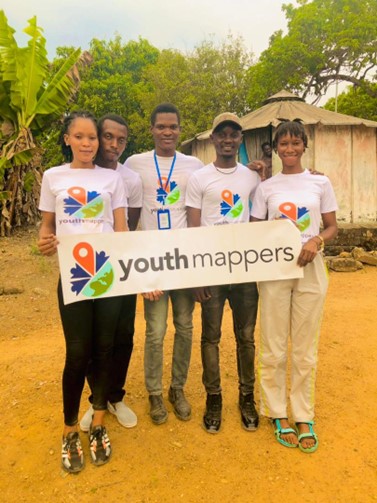 According to the United Nations, 2.4 billion people in the world live in water stressed countries. Addressing the UN 2030 Agenda for Sustainable Development Goal (SDG 6), ensuring the availability and sustainable management of water and sanitation for all, Digital Earth Africa aims to provide the tools and services required to enable decision makers, researchers and industry to make data informed decisions to achieve more sustainable and safer communities.
Using Earth observation data to inform community water resources 
The Eastern Technical University of Sierra Leone YouthMappers chapter, led by Momoh Lamin, one of four winners of the YouthMappers and Digital Earth Africa Technical Challenge announced earlier this year, recently completed a project addressing the management of water resources and water quality within rural communities.  
In their commitment to support local governments, government bodies, non-governmental organisations, humanitarian agencies, and community stakeholders in the pursuit of ensuring the availability and sustainable management of water and sanitation for all, the YouthMappers utilised open geospatial tools and readily available data from the Digital Earth Africa platform.
Using DE Africa's Water Observations from Space (WOfS) the YouthMapper's created a detailed map of the water resources in the Kinema District, an area identified as experiencing a lack of access to adequate and safe drinking water. The students also used the tool to identify areas at risk of flooding. Using WOfS the students were able to detect areas of water and measure the frequency of its availability to the Kinema District. Their analysis included a thorough examination of surface water patterns and flood risk assessment which provided a more in-depth insight into the quality, quantity, and availability of water resources.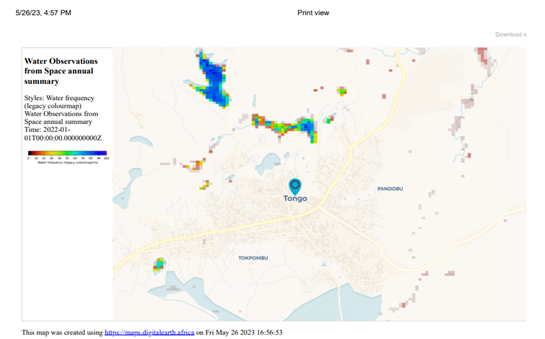 As well as using this data to deliver informed mapping of water availability, the students provided recommendations to improve water management within the communities. The comprehensive report equips stakeholders, both at the local and national government levels, as well as NGOs, with an extensive understanding of rural water resources and offers practical strategies to enhance resource management for rural communities.
Empowering communities in local water management and treatment
The YouthMappers team initiated the project by engaging with local government and stakeholders to gain community support. Conducting a comprehensive survey in the towns of Tongo, Gegbwema, Daru, Kamasu, and Jao, the team gathered both qualitative and quantitative data on household demographics, water sources, perceptions of water quality and quantity, and sanitation practices.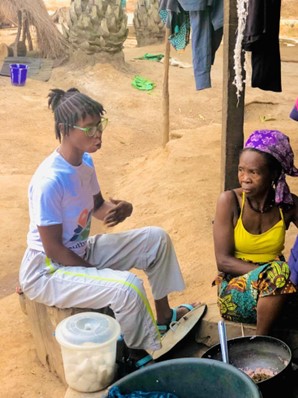 In the practical fieldwork phase of this project, final-year students specialising in Public Health and Environmental Studies from Eastern Technical University were invited to team up with the YouthMappers initiative. Their mission was to impart critical practical knowledge to the public through a series of workshops with the survey participants.
These workshops were designed to equip participants with essential skills in local water management and treatment, emphasising the importance of making the available water safe for consumption. The students also delved into the knowledge of water sanitation and hygiene practices, all with a central goal: to raise the district's overall health standards.
At the conclusion of each workshop, a tangible solution was introduced. Hand washing soap and Veronica buckets, designed for hand hygiene in areas lacking running water, were distributed. These resources were entrusted to the community leaders, ensuring installation at the primary public taps in each town. This approach was applied to improve public health and empower communities to take charge of their well-being.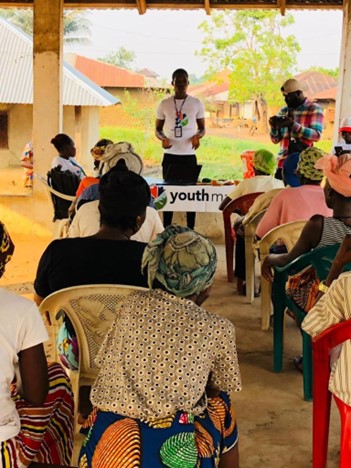 The team then compiled the survey data and used Quantum Geographic Information Systems (QGIS) to help visualise the data and compare it to the maps generated through DE Africa WOfS. The team commented on how powerful the DE Africa platform is, from  analysing geographic data which identifies water resources, free access to readily available data, ease of use and flexibility and accuracy of results.
"This tool enables YouthMappers at Eastern Technical University to acquire new skills and knowledge about water resource mapping and analyses with the use of WOfS. It is a great pleasure to commend Digital Earth Africa for adding to our skill and introducing us to yet another powerful geospatial analysis tool."
(Momoh Lamin, President of the YouthMappers Eastern Technical University of Sierra Leone.)
Insights to inform data driven decision making
The annual water summary for each town, using the DE Africa WOfS tool, provides insight into the percentage of clear observations identified in each calendar year and can be used to understand year to year changes in surface water.
The project's findings indicate that, except for Daru, all the towns in the region have limited access to permanent water sources. Daru, however, faces recurrent flooding risks due to human activities, leading to severe consequences such as loss of life, home displacement, and reduced agricultural yields.
Additionally, the study identified only four sources of high-quality water suitable for drinking and domestic use in the entire region. The quality of water from the other thirty-nine sources ranged from average to poor. Out of these sources, only twelve were considered reliable throughout the year, while the remaining thirty-one were either seasonally available or insufficient to meet the community's water requirements
The findings highlight the critical issue of ensuring access to clean and safe drinking water for the growing population of the community. Additionally, there's a pressing need to balance this with the water requirements for agricultural purposes, all while avoiding the depletion of available groundwater resources.
Recommendations from the findings:
·   Implementing water conservation practices such as rainwater harvesting and greywater recycling and investing in water treatment technologies,
·   Encouraging efficient irrigation techniques to minimise water waste in agriculture and encourage regular assessment of water resources to ensure sustainable water withdrawal limits,
·   Educating the public and industry about the importance of proper waste disposal to prevent water pollution,
·   Developing comprehensive flood management plans, including the restoration and maintenance of natural flood plains, wetlands and river channels to mitigate flood risk,
·   Implementing sustainable land management practices to prevent soil erosion.
Momoh and his YouthMappers Chapter are now investigating ways to mobilise the resources required to implement their recommendations.
Read the full YouthMappers project report here
"We really hope to implement some of our recommendations, like storing rainwater, sinking boreholes, and measures for capturing runoff water from roofs to provide more water for more people. Conduct a tree planting exercise with the communities around flood prone zones to mitigate flooding impacts. We just need to secure further support and the resources to implement these activities. When we are in the field I remember the words of Dr Patricia Solis, Director of YouthMappers, "If you want to go fast, go alone, but if you want to go far, go together." (Momoh Lamin, President of the YouthMappers Eastern Technical University of Sierra Leone.)