26 May 2021
One of the world's most delicate ecosystems, wetlands are a crucial part of our natural environment. They may look chaotic, but the tidal pools, marshes and tangles of mangroves, branches and roots are actually key to preserving order in the world around us. The dense vegetation protects our shores from erosion, provides a buffer against rising water and serves as a habitat for a vast range of fish, birds, reptiles and mammals.
Wetlands are also key to the global fight against climate change. Immensely efficient at capturing and storing carbon, it is thought that 35% of the world's carbon is contained within wetlands. In fact, mangroves have been shown to be more efficient at sequestering carbon than temporal or boreal forests. Despite their important status, wetlands are being destroyed at a rapid rate - 87% of the world's wetlands have been destroyed over the past 300 years.
Wetlands in Kenya
Wetlands, including river deltas, peatlands and mangroves are a crucial part of the Kenyan landscape and biodiversity. The Kenya Forest Research Institute (KEFRI) has been supporting the monitoring and protection of wetlands in the country especially the Ondiri wetland, taking part in World Wetlands Day to celebrate the six Ramsar sites across Kenya, and campaigning for more sites to be appointed. On World Wetlands Day in 2021, the Kenyan Cabinet Secretary for Environment and Forestry showed support for this important cause, launching the Integrated Coastal Zone Management Action Plan, 2019-2023 at the River Sabaki estuary in Kilifi County.
Sabaki Estuary, Kilifi County
The Sabaki Estuary is an area of wetlands covering around 200 ha. Located in northern Kenya, the wetlands are fed by the Athi-Galana-Sabaki River, which begins its course at Ondiri Swamp and makes its way to the Indian Ocean. In fact, when viewed by satellite, the sediment-rich water can be seen blending in with the saltwater of the sea.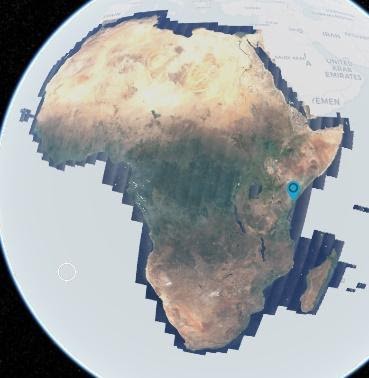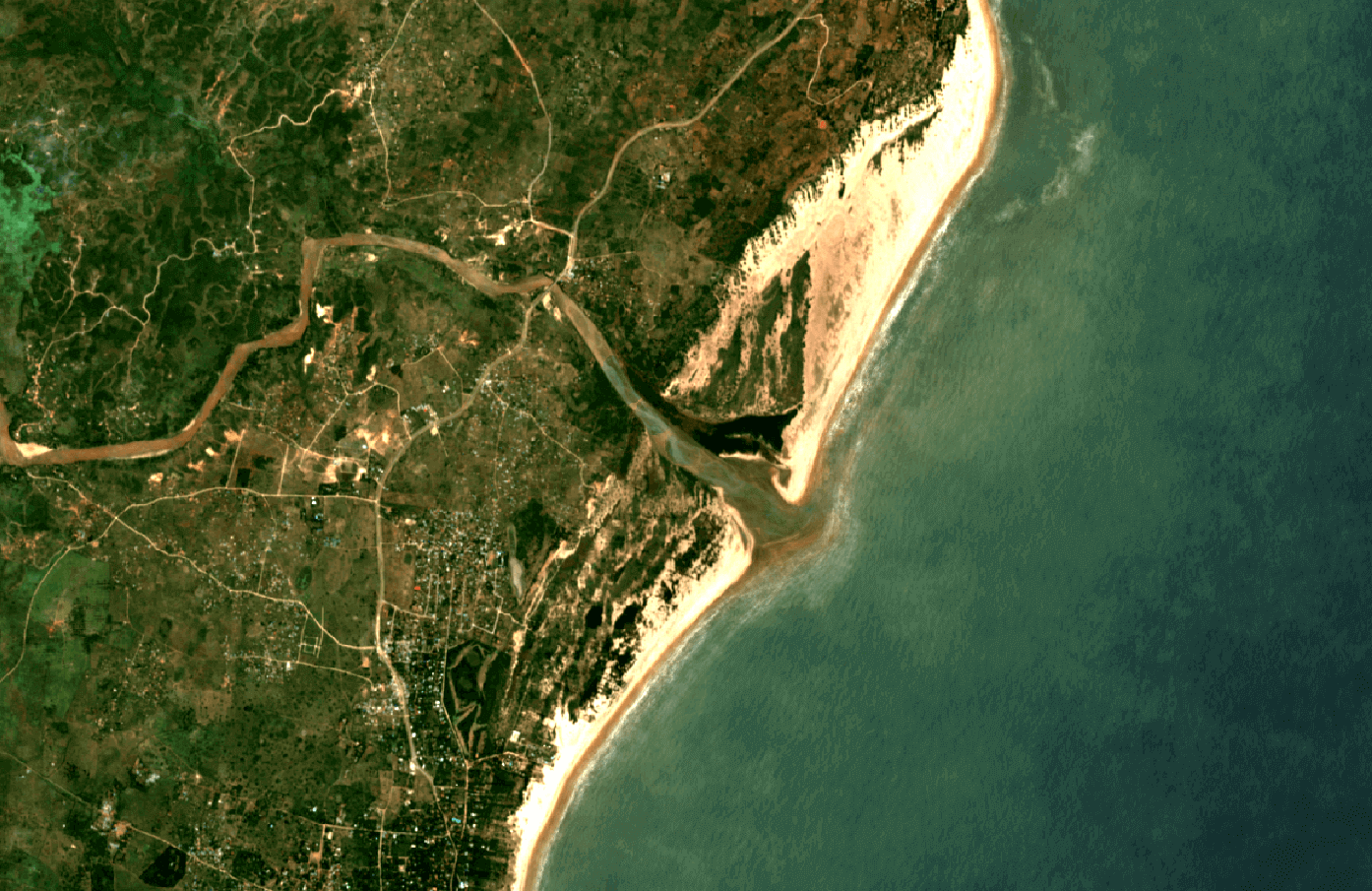 The Sabaki Estuary: Sentinel-2 GeoMAD 2020 – processed by Digital Earth Africa.
Protected by mangroves, the Sabaki wetlands are an important habitat for birdlife, but this is being slowly destroyed – largely due to human activities.

Different species of birds in Sabaki estuary

Degradation and destruction of mangroves in Sabaki estuary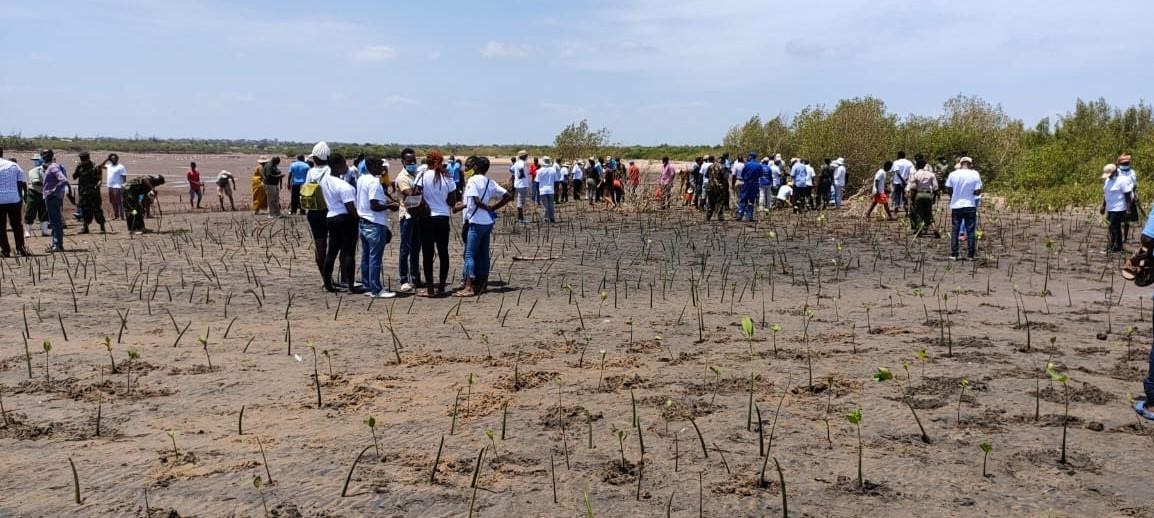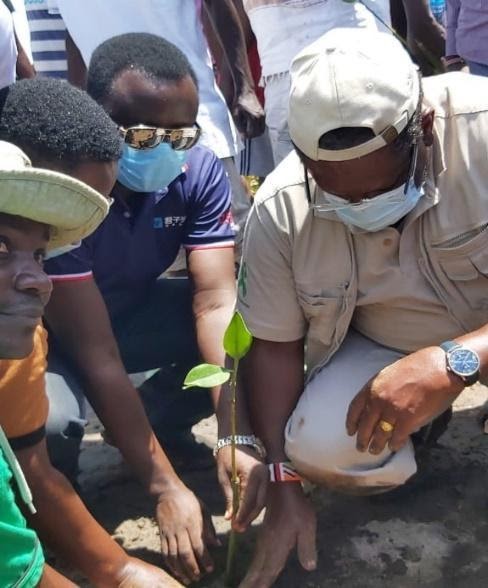 Planting of mangroves at the River Sabaki estuary during the World Wetlands Day 2021
Earth observation for environmental protection and conservation
Dr. Stanley Nadir, a research scientist in Soil Science and Water Management with KEFRI recognised the need to protect this important ecosystem against further degradation. After going through the Digital Earth Africa training program, he began to provide assessments of the changing vegetation.
Dr. Nadir used DE Africa's Mangrove Monitoring Notebook to carry out his research. The notebook is available in the DE Africa sandbox, which provides a usable set of tools for performing change detection over time.
Dr. Nadir wanted to study the change in vegetation especially mangroves at the Sabaki Estuary, and for this he used the Normalised Difference Vegetation Index (NDVI).

Figure 1: Sabaki Estuary NDVI
As can be seen in the above analysis, the vegetation near the estuary is greener than that which is found inland, reflected by a higher NDVI value. Changes in the amount of vegetation can also be seen here, particularly in the lower part of the north side of the river mouth.
Dr. Nadir also used DE Africa to map the extent of mangroves in the Sabaki Estuary. To do this effectively, he compared DE Africa results with the Global Mangrove Watch (GMW) - an initiative to track global mangrove extents. The DE Africa platform allows users to classify mangroves using the Normalized Difference Vegetation Index (NDVI) thresholding and Normalized Difference Water Index (NDWI) as shown in the image below.

Figure 2: Mangroves in Sabaki estuary
The DE Africa platform can also analyse how mangroves change over time. By studying the growth of mangroves over a three-year period, Dr. Nadir was able to see that total mangrove numbers have increased in the area, after a dip in 2019. In the below image, the colour green shows areas with new mangroves, blue shows areas with no change and red shows areas with loss of mangroves- crucially along the banks of the estuary, where mangroves serve as storm barriers.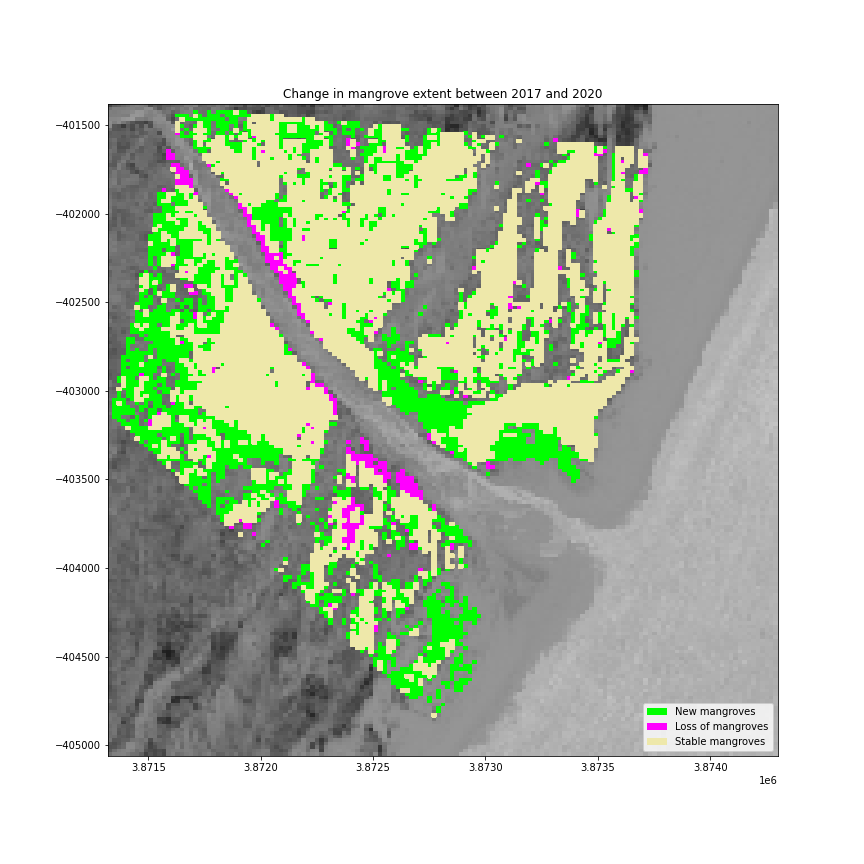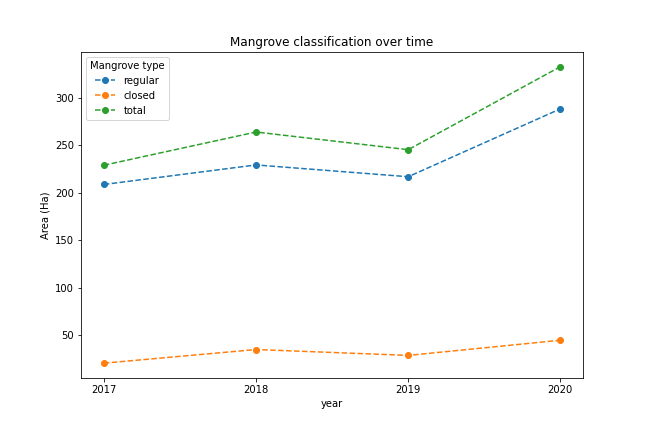 As the Kenyan Government launches its Integrated Coastal Zone Management Action Plan for Kenya 2018-2023, Dr. Nadir will be able to use DE Africa to conduct further analysis on changes to water extent, coastal erosion and mangrove growth. Earth observation can help to identify areas for potential planting of mangroves, and help to preserve this important ecosystem in areas that are experiencing the greatest losses. As part of World Wetlands Day, the Kenyan government planted 100,000 mangrove seedlings and propagules at the Sabaki Estuary, and the successful establishment of these seedlings should be visible over the years to come.
Using GeoMAD to view mangroves
For a more detailed view of mangrove growth, and a comparison year on year, users can apply the NDVI band of Digital Earth Africa's new GeoMAD service. The figure below demonstrates the change in NDVI values between 2017 and 2020. This interactive story map lets you experiment with the tool yourself.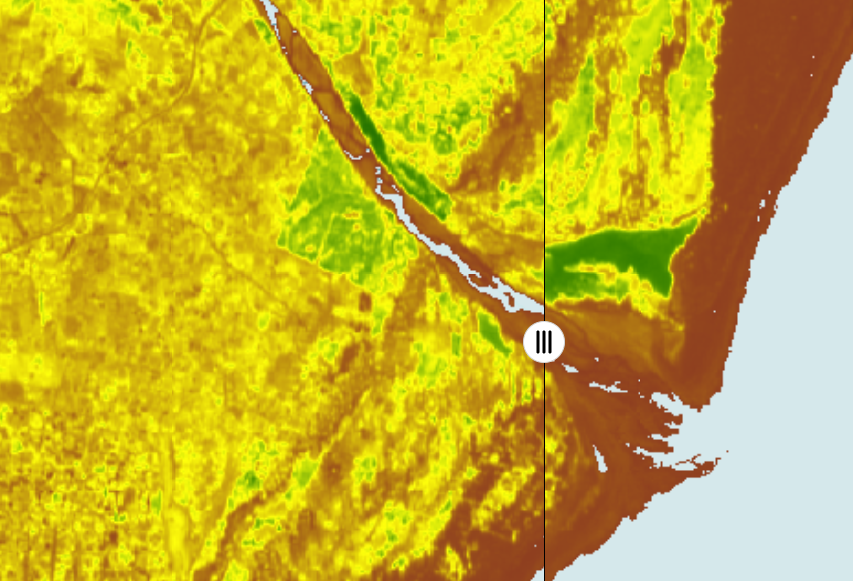 If you would like to explore Africa's wetlands for yourself, take a look at the mangrove notebook. You can also explore the Digital Earth Africa map.
About Dr. Stanley Nadir
Dr. Stanley Nadir is a research scientist in soil science and water management and works for the Kenya Forestry Research Institute (KEFRI). Stanley has authored several publications on soil and water including soil carbon sequestration potential for Mau forest, soil and water quality in forested river catchments (Nzoia and Athi) etc. Stanley was previously trained on the Africa Regional Data Cube (ARDC), a training which was organised by the Kenya Meteorology Department (KMD) in February 2020 and was able to transition into Digital Earth Africa (DE Africa). Stanley uses DE Africa as a one stop platform to explore various analyses on an ecosystem such as the Sabaki river estuary and run various ecological changes in vegetation, water, and mangroves.