05 Aug 2021
After careful selection, the South African National Space Agency (SANSA) will host the Digital Earth Africa Program Management Office (PMO). 
The appointment marks a significant milestone in establishing an Africa-based infrastructure for Digital Earth Africa, ensuring that the platform remains responsive to the needs, challenges, and priorities of the continent, and continuing its vision and mission to provide routine, reliable and free access to Earth observation data to tackle some of Africa's greatest socio-economic and sustainability challenges.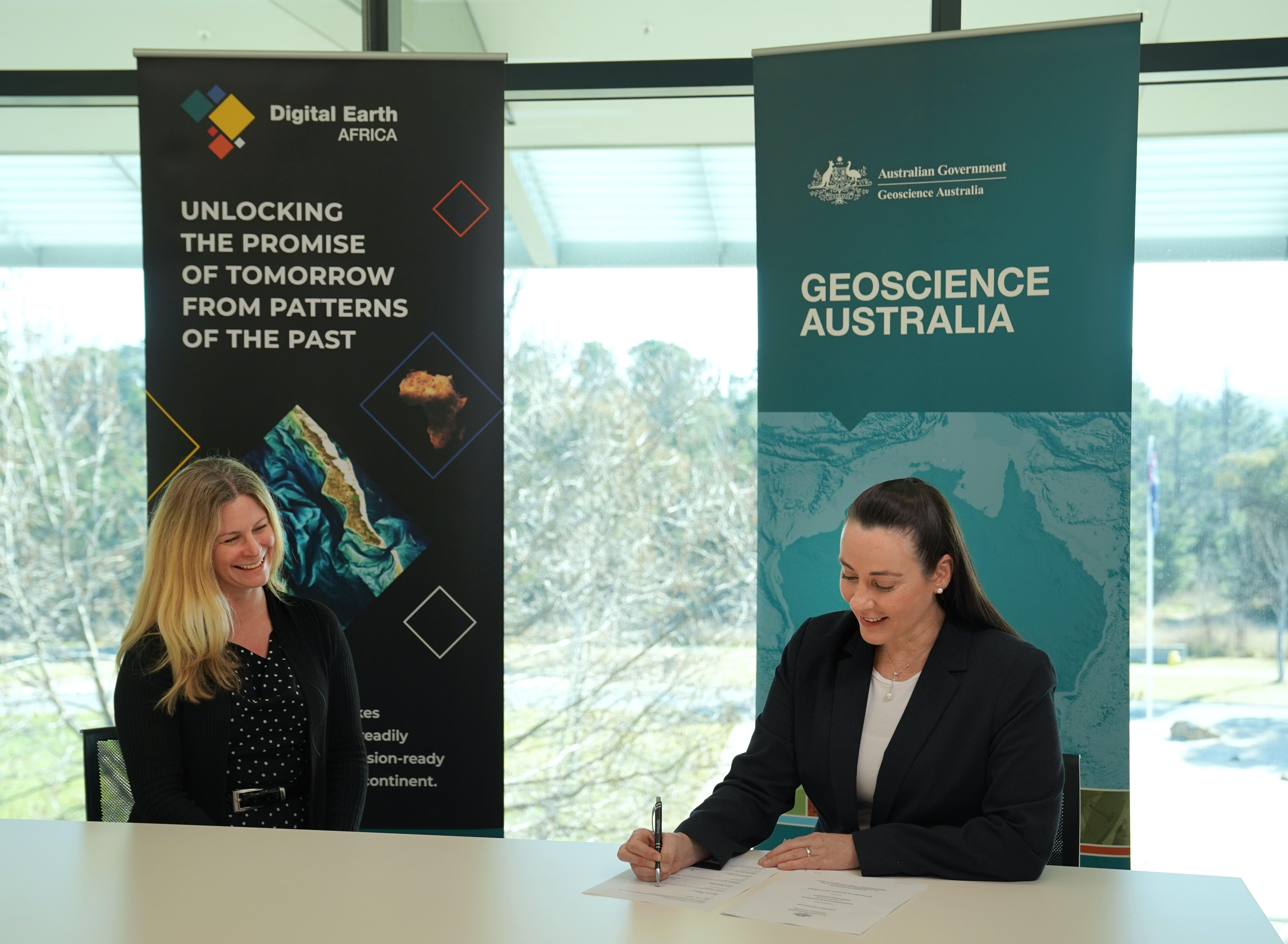 'It has always been fundamental for Digital Earth Africa to become fully operational in Africa, and I am delighted to announce this vital step in Digital Earth Africa's growth. An Africa-based PMO allows us to tailor our platform even more to the needs of our users. It also signals an important step towards the complete transition of Digital Earth Africa to be owned and run by African organisations and stakeholders,' says Adam Lewis, Managing Director of the Digital Earth Africa Establishment Team. 
Based in Pretoria, South Africa, the PMO will strengthen Digital Earth Africa's already extensive network of partners from across the continent. The PMO will provide on-going leadership and direction as the program continues to deliver upon its strategic objectives. 
'SANSA has as its vision, "an integrated National Space Capability that responds to socio-economic challenges in Africa by 2030". The coordination of the PMO through SANSA aligns with and supports the objectives of using space knowledge and technology to the benefit of all citizens on the continent. Moreover, it gives impetus to an operational African space programme that has been on the cards for a while,' says Dr Val Munsami, SANSA CEO.
The selection was made after careful assessment by an independent panel with majority representation from African organisations. There is confidence in the aligned missions and visions of SANSA and Digital Earth Africa, as well as the capacity and capability of SANSA to host the PMO, ensuring the ongoing success of the platform. 
This agreement was made under the terms of a contract between SANSA and Geoscience Australia. 
Alison Rose, Chief of Place, Space and Communities Division at Geoscience Australia and Co-Chair of the Digital Earth Africa Governing Board says: 'Geoscience Australia is delighted to see such an active step taken towards achieving Digital Earth Africa's vision and mission. I, and the rest of the Board, look forward to working with SANSA to guide the transition of the program to Africa.'
For the remainder of 2021 and into 2022, the current Establishment Team will work closely with SANSA and the PMO to transition functions from the Establishment Team to the PMO. 
About Digital Earth Africa
Digital Earth Africa exists to improve the lives of people across the African continent by translating Earth observations into insights that will support sustainable development. Digital Earth Africa provides a routine, reliable and operational service, using Earth observations to deliver decision-ready products enabling policy makers, scientists, the private sector and civil society to address social, environmental and economic changes on the continent and develop an ecosystem for innovation across sectors.
About the South African National Space Agency
The South African National Space Agency (SANSA) was established on 9 December 2010 through the South African National Space Agency Act, 36 of 2008. SANSA provides for the promotion of and cooperation in space-related activities, foster research in space science, advance scientific engineering through human capital and support development of an environment conducive to industrial development in space technologies.
Our goals are to provide world-class and efficient services, societal benefits and position South Africa as a recognised global space citizen. Our impact is derived from assimilating the national capacity, competence, experience and expertise in space science and technology into thematic focus areas such as Earth Observation, Space Operations, Space Science, Space Engineering, Human Capital Development and Science advancement and public engagement.
Enquiries:
communications@digitalearthafrica.org