01 Mar 2021
Partnership is at the heart of the Digital Earth Africa program and we are proud to be collaborating with a range of influential organizations from across the African continent. 
By establishing this close network we can work together to improve lives by getting Earth observation (EO) data into the hands of decision makers, empowering and enabling them to address the social, environmental and economic challenges facing both their country and the continent as a whole. 
DE Africa's partners are a growing community and the program's commitment to being African owned and run only means that this community will continue to grow. 
On 17th of Feb 2021, we were proud to host the first Digital Earth Africa 'All-Hands' meeting where we were delighted to hear from our network, including: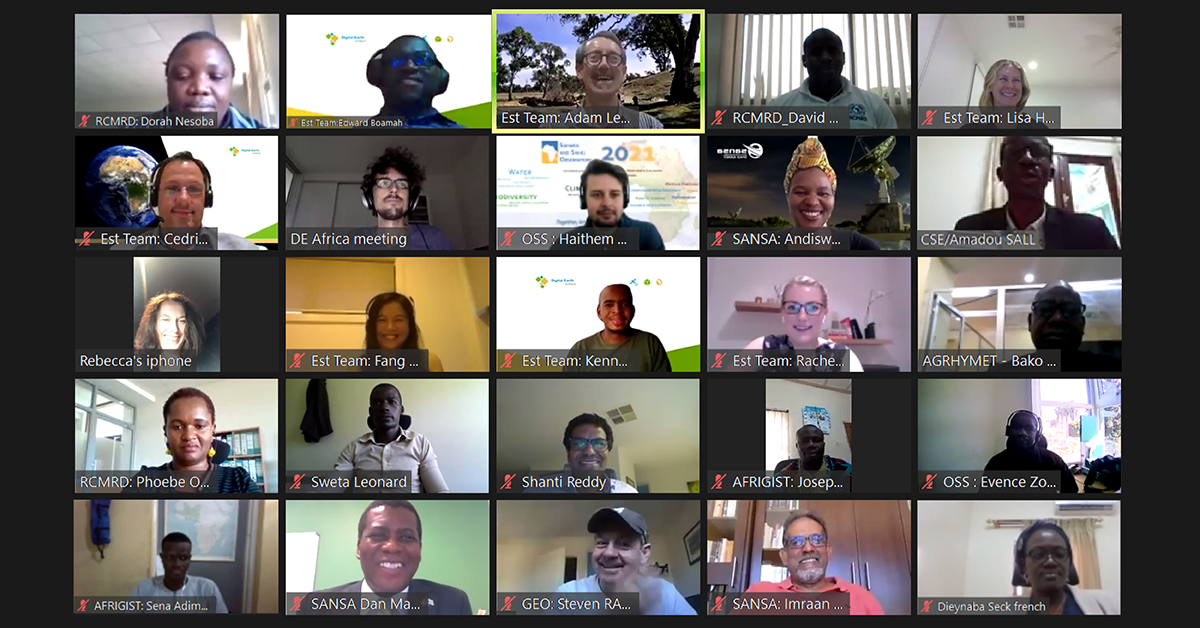 This photo of everyone's smiling faces provides a sense of the scale of the network so far - and the enthusiasm of the group. 
Presentations from our partners highlighted key areas of common interest and collaboration to support the growth and impact of DE Africa at scale. There were several common themes which highlighted just some of the ways in which the network can collaborate, including:
Product development and validation
Our partners are working together to develop and conduct validation for DE Africa products including Water Observations from Space, Crop Land Mapping and fractional cover. 
Use case development
Live sessions are bringing together a community of users of the DE Africa platform to raise awareness and understanding about how the data can be used to address challenges across the continent. Use cases are being developed to help demonstrate relevant applications of the platform. 
Capacity development
Building capacity is key to enabling organisations across Africa to use data from Earth observation. Our partners are crucial to making this happen and their involvement in workshops and webinars has been fantastic. 
Communications
Our communications network will work together to ensure that information about DE Africa is reaching the people who would benefit from it most. A great spread of partners from across the continent will help to ensure the product offering is tailored to local requirements. 
GEDSI
The DE Africa program is founded on equality and diversity. Ensuring a range of partners from different backgrounds helps us to ensure that DE Africa really is for everyone. 
As a Community Activity of the Group on Earth Observations (GEO), DE Africa also benefits from global input and support, including from AfriGEO — GEO's regional initiative in Africa. 
We are so grateful to our network of partners for their collaboration and enthusiasm, and look forward to growing together into the future. 
View our full list of partners here. 
Join our Stakeholder Community Group here where you will receive quarterly updates about the program and information about how to get involved. 
Email us at info@digitalearthafrica.org or fill out the form here if you'd like more information.