27 Apr 2021
The Digital Earth Africa Technical Advisory Committee (TAC) is a vital part of program governance, bringing together experts from a range of sectors and locations across Africa. The TAC provides rigorous and practical guidance on the overall program and is a crucial team for DE Africa.
At the heart of the TAC are our co-chairs, Andiswa Mlisa of the South African National Space Agency and Omar Seidu of Ghana Statistical Service who was appointed to the role of co-chair in 2021.
Get to know more about them both and how they will bring their skills to guide the activities of the TAC and enhance the DE Africa program below.
Omar Seidu (co-chair)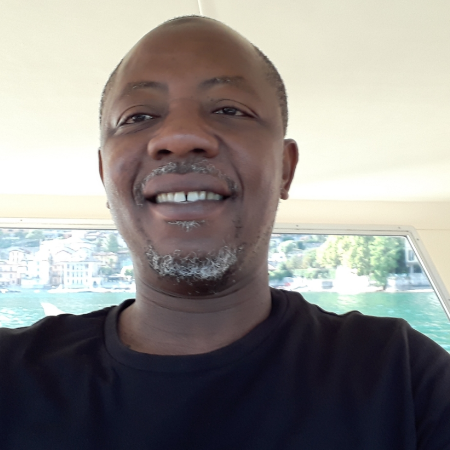 DE Africa is delighted to welcome Omar Seidu as TAC co-chair. Omar Seidu is a social statistician with about 20 years' experience in the statistics production process. With the responsibility of coordinating data for monitoring the Sustainable Development Goals in Ghana, Omar leads a drive around data innovation, multi-stakeholder approach to data production and strengthening administrative data systems. In 4 years of establishing a data roadmap, 30 data projects at different stages of maturity are being implemented by the Ghana Statistical Service (GSS). He is credited with brokering strategic partnerships and mobilizing resources for the statistical system in Ghana.
Omar is not only passionate about strengthening the data ecosystem, but also the uptake of evidence in decision making. To this end, he has in the past 5 years pursued an agenda to bridge the gap between the evidence community and political leadership by demonstrating the value of data. This has resulted in improved visibility for GSS in Ghana and around the world.
Omar is a member of the Inter Agency and Expert Group on the Sustainable Development Goals (IAEG-SDGs) and serves on several other national and international platforms on data for development.
Expressing his excitement to take up his role as co-chair, Omar says:
"Sustainable development will elude Africa if we fail to manage today's resources responsibly, and this must be borne out of all available evidence. Evidence that points us to informed interventions and enhances planning and program implementation. Geospatial information is a critical piece of this data and DE Africa comes in handy with its continent-wide reach."
Andiswa Mlisa (co-chair)
As the Managing Director of Earth Observations at the South African National Space Agency (SANSA), Andiswa brings a wide range of knowledge and experience to the technical advisory board. Prior to working with SANSA, Andiswa was a member of Group on Earth Observation (GEO) Secretariat. Here, she was responsible for coordinating AfriGEO and capacity building activities. She is now a Co-Chair of the GEO Programme Board and member of a number of GEO subgroups and other national and international committees aimed at advancing the use of EO. As a graduate of the Universities of Fort Hare and Stellenbosch in GIS and Remote Sensing, Andiswa spent the early years of her career developing geospatial solutions for water resource management and disaster risk reduction.
With experience in the development of partnerships for Earth observation initiatives, a passion for space applications and experience across international, intergovernmental, and private sector organizations, we are honoured to have Andiswa co-chair our Technical Advisory Committee.
Learn more about our Technical Advisory Committee and get to know all its wonderful members here.