01 Mar 2021
Bringing together key partners of the DE Africa program along with nearly 200 passionate members of the DE Africa community, our latest webinar focused on Capacity Development and issues related to the use of Earth observations to drive decisions, policy, action and innovation. 
Leading the discussion was an impressive line-up of speakers, including:  
Edward Boamah, Digital Earth Africa 
Kenneth Mubea, Digital Earth Africa 
Stella Mutai, International Fund for Agricultural Development (IFAD)
Joost Teuben, Faculty of Geo-Information Science and Earth Observation (ICT) at the University of Twente (UT)
Adam Lewis, Digital Earth Africa 
Aditya Agrawal, Digital Earth Africa (Moderator)
And our panellists were:  
Philip Thigo, Thunderbird School of Global Management, Africa  
Andre Nonguierma, UN Economic Commission for Africa
Tidiane Ouattara, African Union Commission 
Phoebe Oduor, Regional Centre for Mapping of Resources for Development (RCMRD)
Andiswa Mlisa (Moderator), South African National Space Agency (SANSA)
The discussion kicked off with a warm introduction from the Managing Director of DE Africa, Adam Lewis. Adam provided an insightful overview of the DE Africa program, explaining the whole-of-continent approach to using Earth observations which can provide insight into a range of issues from flooding, droughts, water availability and quality, soil and coastal erosion, land use and changes to human settlement.  
Training and platform use
A core element of the DE Africa program is to develop sustained capacity which is both based and built in Africa, enabling the potential benefits of Earth observation to be realised across the continent. Highlighting the program's accessibility to the African community were Edward Boamah and Kenneth Mubea who provided an overview of the DE Africa  6-week training program. 
Assisting Africa Regional Data Cube (ARDC) users in transitioning to the DE Africa platform, the program exhibits an advanced range of user training modules whilst simultaneously supporting DE Africa platform users to develop use cases.
"We are looking forward to developing more use cases together as we collaborate through the training to create the Africa we want."– Kenneth Mubea
Edward went on to emphasise the importance of collaboration, indicating that a key aspect of use case development is co-design among users.
"At the end of the day the system comes with us, for us, to utilise for our own ends… All of this is made possible because DE Africa is co-designing and working together with African countries through the training sessions." - Edward Boamah
Attracting a diverse audience is critical to ensure the benefits of the platform are available across the African continent. The program has so far engaged 45 participants across 18 institutions with users from Ghana, Kenya, Senegal, Sierra Leone, Tanzania, Botswana, Rwanda, Burkina Faso, and the Democratic Republic of Congo. The training helps make the free platform truly accessible, aiming to remove technical limitations as a barrier. Gender diversity is a key priority of the program and we are pleased to see the gender split of uses shifting constantly to a more balanced split – currently approximately 64% male, and 36% female.  
"We have trained 45 participants across 18 institutions, we keep our eye on the gender balance implementing the GEDSI strategy – ensuring we leave no one behind." – Kenneth Mubea
Further enhancing inclusivity, the program is also available in French and we continue to work to expand the available language options.
From training to practice: DE Africa's influence on sustainable coffee production in Kenya
Proving just how impactful the program can be among the African community, International Fund for Agricultural Development (IFAD), Geospatial Consultant Stella Mutai then discussed how her organisation was able to use the DE Africa platform to support sustainable coffee production in Kenya, following her completion of the 6-week course.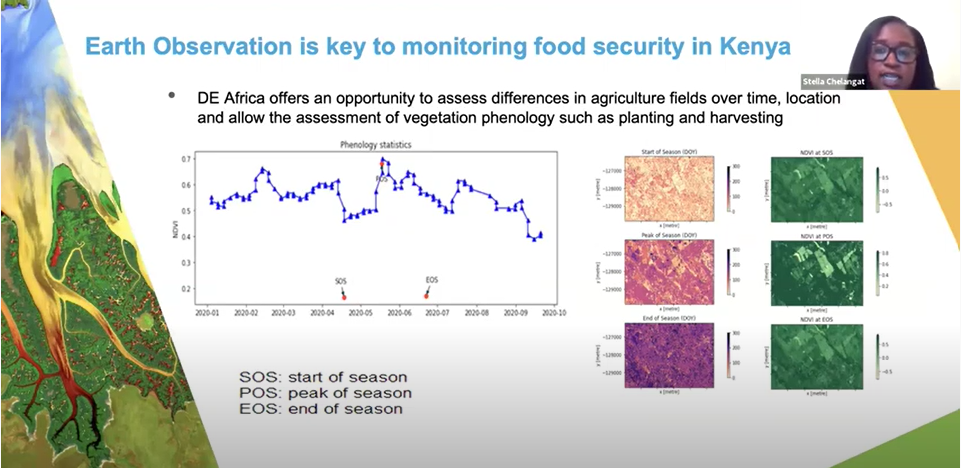 Stella provided key insight into her data usage.
This has the potential to inform agricultural policies, enabling Kenya to support UN Sustainable Development Goals, and the African Union's Agenda 2063 goals.  
"What I like about the 6-week training is that whether you are a GIS special expert or not, the training is very comprehensive. It can used by people in urban planning, land use planning, people working directly on agriculture farms and people in the policy sector." – Stella Mutai
Stella's role at IFAD involves the use of Earth observations in various projects across Africa to promote food security and allow for the assessment of vegetation phenology such as planting and harvesting.
Capacity Development Strategy
Focusing on the path forward, the webinar then explored DE Africa's Capacity Development Strategy University of Twente's Joost Tueben, provided an update on the progress of strategy and plans to continue to build capacity. He explained that the DE Africa Capacity Development Task Team, including key partners from across Africa and the globe, has adopted a holistic approach to putting the strategy into action, drawing on the needs and input of DE Africa's variety of Implementing Partner organisations.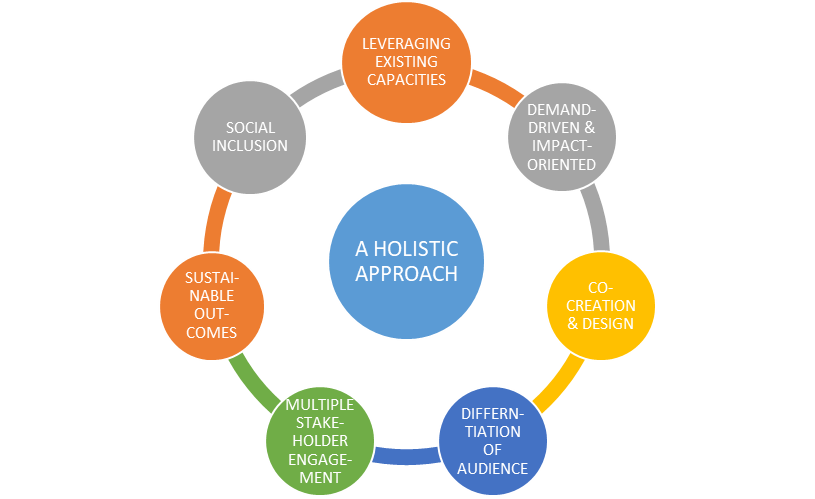 "The differences in the needs of the various partner organisations require a fit for purpose approach, there is no one fits all methodology, we really need to look at the specific needs of each organisation." -Joost Teuben
Further highlighting DE Africa's collaborative approach, when asked what success of the strategy would look like, Joost spoke of the need for ongoing support and guidance:
"Success is when you really see impact on the ground.  For that you have to see capacity development from a broader perspective, you have to support people, you have to support organisations, you have to look at the full ecosystem." -Joost Teuben 
Inside the panel discussion
Continuing the theme of collaboration, the webinar then engaged a robust panel discussion moderated by Andiswa Mlisa. Panellists and viewers explored the meaning of sustained capacity, key issues for capacity development on earth observations, development outcomes and successful mechanisms in making information accessible.
To generate discussion, panellists were asked what sustained capacity meant to them. Andiswa explained that to her, sustained capability could be reflected in the Corsican meaning of support yourself.
Opening the conversation, Space science expert Tidiane Ouattara explained that sustained capacity covers three key areas: infrastructure, human capital and most importantly, financial resources. He explained that infrastructure needs to be continuously maintained and improved, relationships within the African community need to be nurtured, and a critical mass among Africa had to be developed. The most important factor for Tidiane is the need for necessary funding to apply Earth observations for socio-economic development.
Andre Nonguierma explored the impact of sustained capacity among Africa:
"Sustained capacity means a demonstrated organisational capacity to carry out training education on a sustained basis." - Andre Nonguierma 
Encouraging the notion of enhancing the African community, he went on to explain that institutions should be able to demonstrate their ability to provide quality training, with minimal external input.
Providing a Kenyan perspective, Philip Thigo said there are three aspects of sustained capacity: mindset, maintaining a systems approach and evolution. Like Andre, he believes in the need for development among the African community stating that there must be a deliberateness in terms of investing in local resources and that an evolution approach will enhance a collaboration of internal systems.
Following further passionate discussion surrounding the capacity development throughout Africa, the panel was asked:
"What would success look like to you?"
"If we succeed in engaging decision markers to use EO for planning, implementation and development of all kind of policy and programs, it will be bingo." - Tidiane Ouattara
"We need transformation at massive scale and at granular level, and through innovation." - Philip Thigo  
"To be transferable, translatable and transparent." - Phoebe Oduor  
Sparking community dialogue and supporting the use of Earth observations to drive decisions, policy and innovation, this webinar was an exciting step forward for both DE Africa and the broader African community.
Feeling inspired? Enjoy the full webinar here and sign up to our Stakeholder Community Group here to stay up to date with the latest advancements of the program and opportunities to become more involved