07 Nov 2022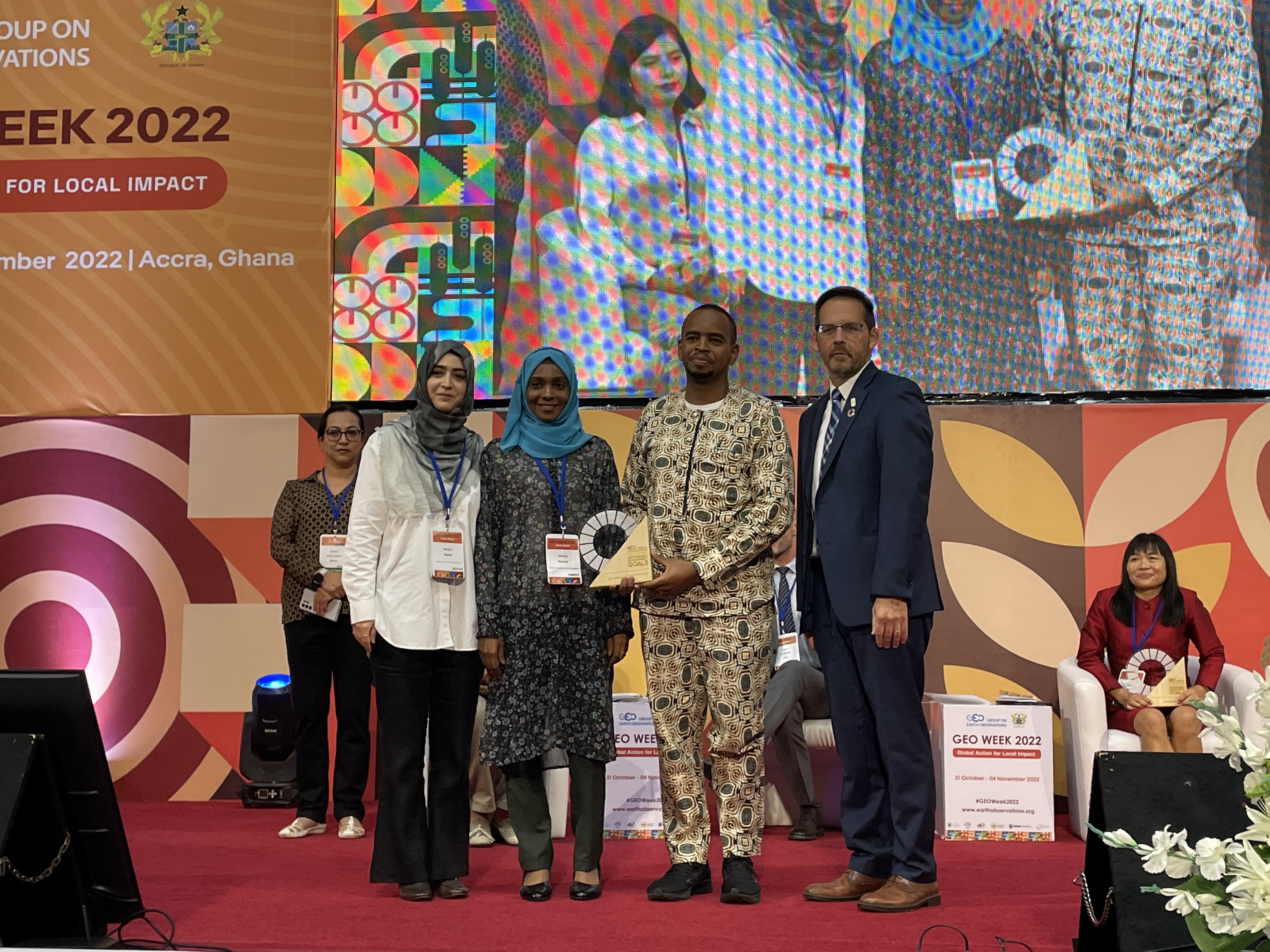 At GEO Week 2022, Digital Earth (DE) Africa won a Sustainable Development Goal (SDG) Award for Climate Action for the project "How data and community can save Zanzibar's mangroves". This project was led by Khairiya Masoud, Raya Ahmada and Massoud Hamad from the State University of Zanzibar (SUZA). DE Africa Capacity Development Lead, Dr. Kenneth Mubea, worked closely with the research team at SUZA to see this project to fruition.
Starting in 2020, Ms Khairiya Masoud from the Tropical Research Centre for Oceanography, Environment and Natural Resources of SUZA used Earth observations to understand and demonstrate the impacts of mangrove degradation in Zanzibar.  The researchers at the university used DE Africa's satellite data to conduct analysis over areas of Chwaka Bay and Makoba Bay from 2014 to 2020.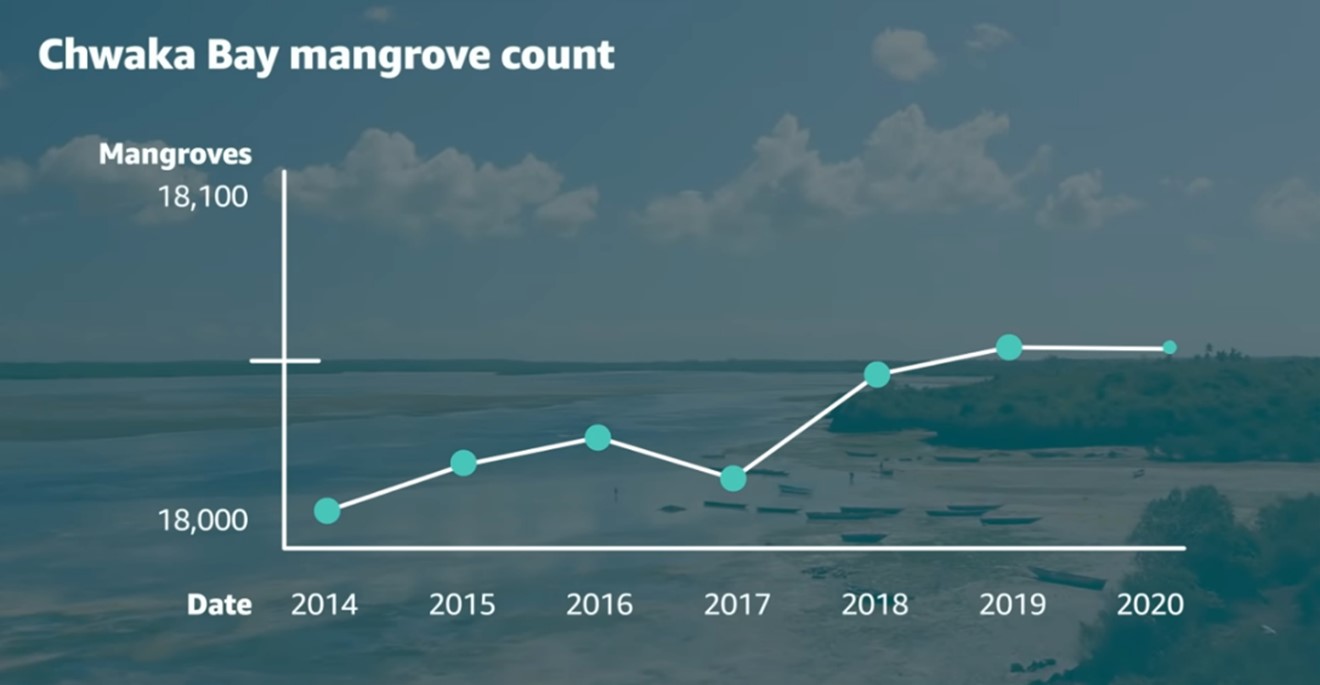 Mangroves are essential for the livelihood of the communities who live in the coastal areas, especially providing food, economic activities, and protection from floods when the sea level rises. In Zanzibar, the local communities rely on mangroves to stabilise the shorelines, protect the land and people from natural disasters and to provide habitats for marine life. Sadly, coastal erosion, rising sea levels and human activity have not only contributed to the degradation of mangroves on the island but have led to the loss of suitable fish along the shoreline. 
We are really happy that through the DE Africa platform, lecturers from the State University of Zanzibar were empowered to create awareness of climate impacts in Zanzibar, showcasing trends in mangroves, engaging the youth in validation and a call to action to conservation. In addition, the State University of Zanzibar (SUZA) continues to engage with the Office of Government Statistician (OCGS) to support SDG 13 on climate action and complement data gaps.
To provide advice on resilience and protection plans for mangroves in the area, SUZA have empowered their students to do the same and, in turn, collaborate with the Youth Mappers SUZA chapter to validate the results. 
View the Climate Next video from Amazon that share more information about the Zanzibar Mangroves Project 
The Digital Earth Africa team thanks the Group on Earth Observations and EO4SDG Initiative for the award and recognition of the activities of its partners at the SUZA.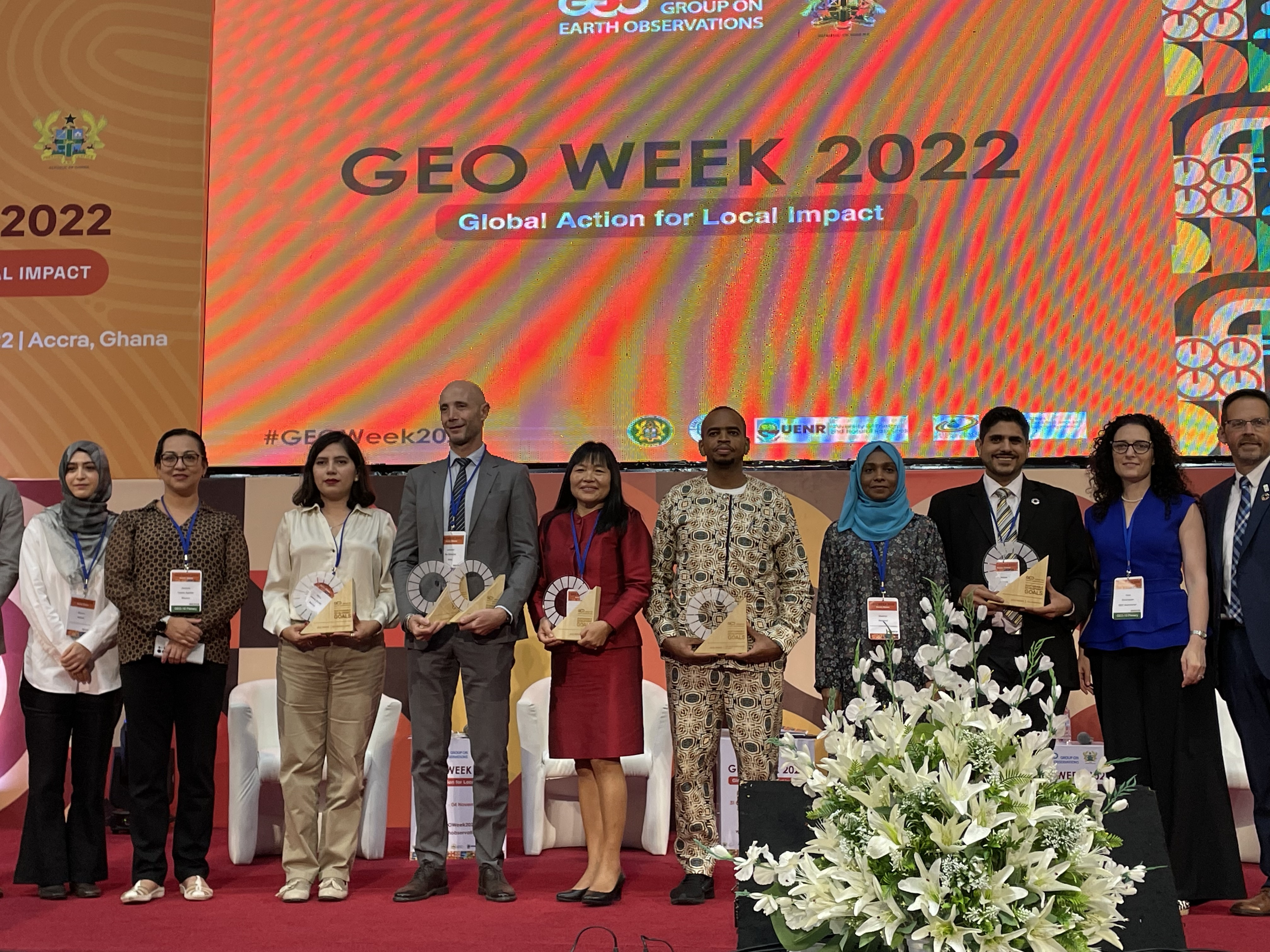 DE Africa continues with its mission of empowering countries across Africa with Earth observation to enable climate adaptation and mitigation, greater food security and more sustainable development. DE Africa provides free access to its platform and training materials.
Want to know how to use our platform?
Sign up for the free learning courses at: https://learn.digitalearthafrica.org.
Contact us on email: info@digitalearthafrica.org 
Stay tuned to updates on social media: @DEarthAfrica on Twitter and Digital Earth Africa  on LinkedIn.