24 Aug 2023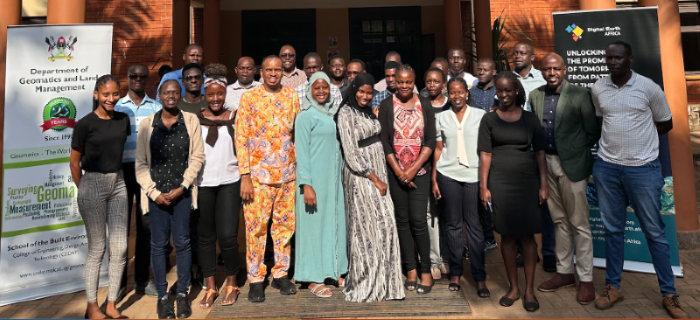 Digital Earth Africa (DE Africa) was honoured to participate at the 7th Advances in Geomatics Research Conference (AGRC2023) hosted by the Department of Geomatics and Land Management, Makerere University, Kampala, Uganda from the 14th to 18th August 2023. AGRC has been held since the year 2011, with DE Africa participating in the last AGRC 2021 (online event).
The purpose of this conference is to highlight, promote and encourage scholarship in the various geomatics sub-disciplines e.g., Location-based services, Engineering Surveying, GIS, Remote Sensing, Land Management, integrated spatial planning, etc taking place locally, regionally and internationally. Through the AGRC the academia, researchers and practitioners in the geomatics field in Uganda and the region have been accorded an affordable forum to discuss their work, peer review other researchers work and advance Geomatics Scholarship in the region. This year's conference included a public dialogue on the National Land Policy for Uganda.
AGRC 2023 hosted the DE Africa pre-conference workshop on 16th August 2023 titled "Unlocking the Promise of Tomorrow", with 50 participants from Uganda joining face to face, and 50 participants connected online. The participants were from government, academia, and civil-society organisations.
The participants were given an overview of the DE Africa platform including demonstrations on the DE Africa Maps and Sandbox. Most of the participants were able to register on the DE Africa Sandbox and taken through use cases of the DE Africa Platform that include agriculture, water, urbanisation and natural resource management. Further, the participants were shown how to access the DE Africa through the DE Africa API into GIS software such as QGIS and Esri https://ows.digitalearth.africa as well as to access the Africa Geoportal https://www.africageoportal.com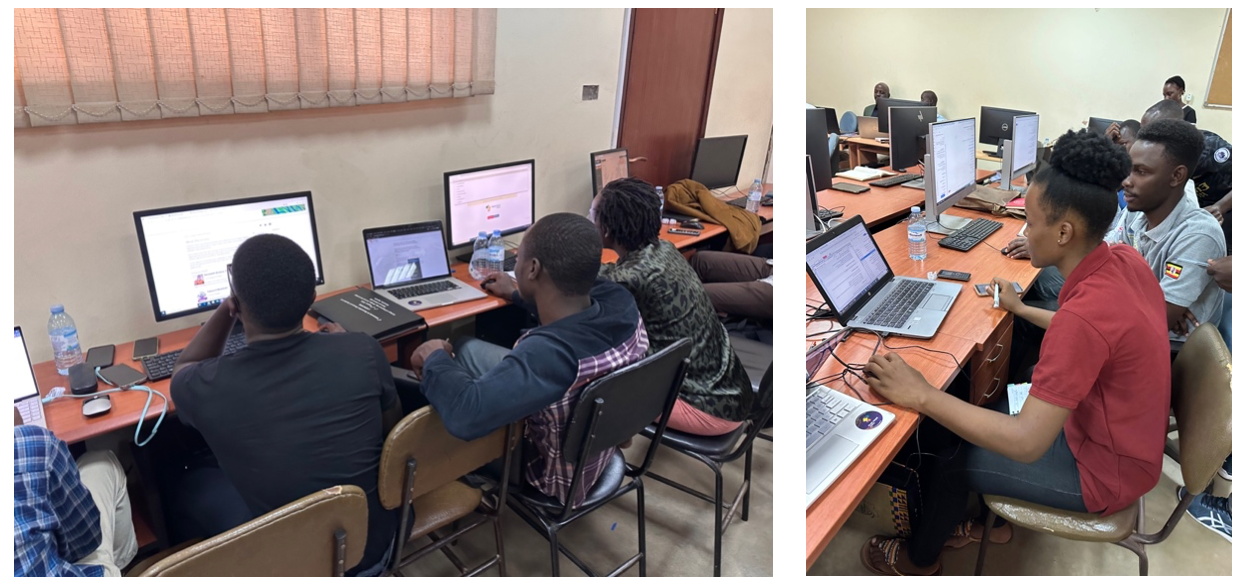 In conclusion, the participants at the Advances in Geomatics Research Conference learned more about the DE Africa platform and had practical applications such as monitoring crop productivity, monitoring water extent, tracking urbanisation etc. Most of the participants signed up for the DE Africa free online courses https://learn.digitalearthafrica.org/ (Introduction to Sandbox) and registered for DE Africa live sessions, held every week on Wednesday at 11am GMT zero https://bit.ly/DEAfricaLiveSessions. Participation at this conference was made possible by the DE Africa Funding Partners, Helmsley Charitable Trust and the Australian Department of Foreign Affairs and Trade.
For more information on AGRC 2023, visit twitter @agrc2023
DE Africa continues with its mission of empowering countries across Africa with Earth observation to enable climate adaptation and mitigation, greater food security and more sustainable development. DE Africa provides free access to its platform and training materials. Website: https://www.digitalearthafrica.org Email: info@digitalearthafrica.org Please sign up for the free  learning courses on: https://learn.digitalearthafrica.org. Stay tuned to updates on social media: (3) Digital Earth Africa (@DEarthAfrica) / Twitter on Twitter and Digital Earth Africa | LinkedIn via LinkedIn.