26 Aug 2022
Digital Earth Africa tools and services can support the prevention of unregulated gold mining activity in Africa, adding at least US$900 million to the African economy annually through improved royalties and regulation*.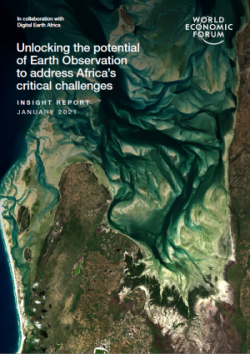 Digital Earth Africa is an innovative Earth observation capability for the African continent that empowers decision-makers, policymakers and industry to make informed decisions. The information drawn out from satellite imagery and derived products can help with the discovery, planning, governance and transparency of resource developments, benefitting African governments, communities and resource developers alike. The online tools, services, and training materials made available freely by Digital Earth Africa make it an easily accessible tool for users with a wide range of experience in Earth observation.
*Insight Report: Unlocking the potential of Earth Observation to address Africa's critical challenges. World Economic Forum
How can Digital Earth Africa empower the effective regulation of mining? 
By providing consistent, routine and reliable operational continental scale data services, Digital Earth Africa puts data into the hands of governmental institutions and industry users across Africa, allowing them to observe changes to the landscape in near real-time and make informed decisions for greater sustainable development.

The free and open Earth observation data available on the Digital Earth Africa

mapping platform

and

DE Africa Sandbox

are accessible by all sectors for a shared understanding of data insights. 

Services such as

Fractional Cover

and

GeoMAD

inform detailed vegetation and ground cover analysis. 

Digital Earth Africa's

Water Observations from Space

service can identify water sources and long-term trends of water availability within a region. 
Free self-paced training material for Digital Earth Africa's Sandbox is available on the Learning Platform and users are supported by the Help Desk for questions and tech support.
The use of satellite imagery datasets, such as Landsat or Sentinel-2, as in the case below, allows users to explore the evolution of a site, thanks to data available dating back to the 1980s (in parts of Africa). This historical data helps to establish a baseline of the site condition prior to approval and development, as well as assist in remote environmental monitoring during operations. The informed decision to set up a follow-up mission in the field can then be greatly facilitated, thus optimising operational costs and staff time. Having a consistent source of information also enables collaboration between government regulators, environmental advisors, data analysts, planners and builders when tracking site development.
A report released by the World Economic Forum estimated that unregulated gold mining in Africa has caused US$9 billion of total economic damage. Even if Digital Earth Africa could help to prevent only 10% of unregulated gold mining activity on the continent, the estimated economic benefits could exceed US$900 million a year. Digital Earth Africa readily provides continental scale services that makes tracking of changes in an area over time easier by using high resolution satellite imagery (10m), such as the GeoMAD service, and creating a time-series of change. Learn more about the potential of Earth observation to address Africa's critical challenges here.
Customised analysis tools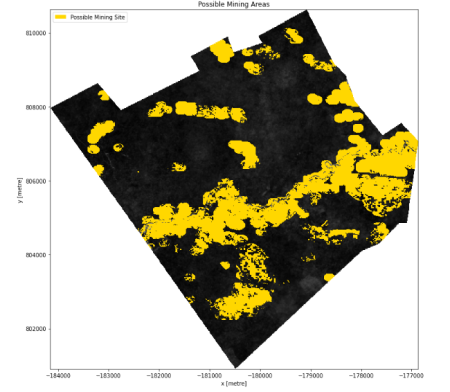 Digital Earth Africa can support the effective regulation of gold mining with Analysis Ready Data and customised analysis tools. The team at Digital Earth Africa have collaborated with partners in Africa to develop and validate methods that help to identify areas where unregulated mining may occur. 
Using the Surface Mining Screening tool, users can identify areas where clearing of vegetation and water presence may indicate surface mining operations. Discover the tool here.
The team at the Ghana Statistical Service have been using Digital Earth Africa tools and services to observe unregulated mining activity in the Apamprama Forest Reserve in Ghana. In collaboration with the Environmental Protection Agency in Ghana, the team measured the presence of vegetation over time and estimated the impact of the unregulated mining in the reserve. Once the mining activities became effectively regulated the forest reserve has since been observed as returning and growing more each year.
Watch Omar Seidu, Head of demographics, statistics and Sustainable Development Goals Coordinator, talk to the UN Big Data Task Team about the value of Digital Earth Africa here. 

If you would like to explore further how Earth observation and Digital Earth Africa can support regulation of mining please contact the team for a discussion at info@digitalearthafrica.org