16 Feb 2022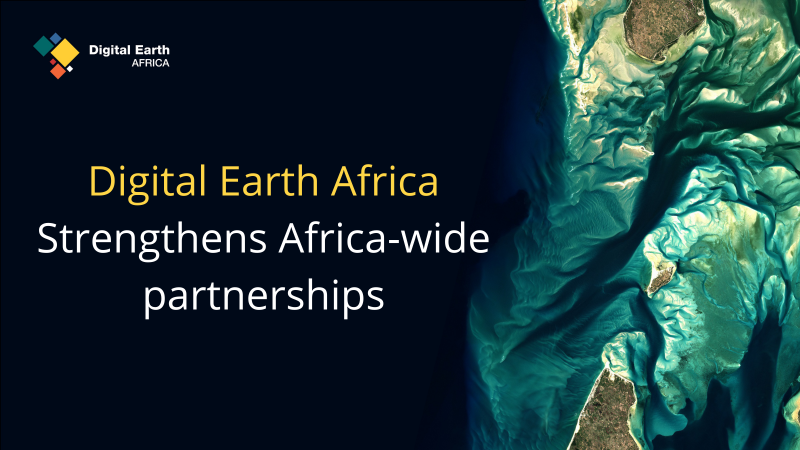 Five key strategic partnerships have been strengthened between Digital Earth Africa and expert Earth observation organisations across the continent, supported by SANSA as DE Africa's new Program Management Office host.
The partnerships, signed with AFRIGIST (Nigeria), AGRHYMET Regional Centre (based in Niger), RCMRD (Kenya), CSE (Senegal) and OSS (Tunisia), mark a renewed commitment to long-held successful relationships and will be a crucial foundation as Digital Earth Africa continues working towards a complete transition to African operations. 
These continuing partnerships will be critical to supporting the leadership and growth of Digital Earth Africa in a number of areas, including infrastructure, capacity building and enhanced country-level engagement with the data, platform and services to address sustainable development issues.
Digital Earth Africa Managing Director, Lisa Hall said:
"These five partnerships across the continent are an exciting next step as they have been established with the Digital Earth Africa Program Management Office in South Africa. The impact and success of Digital Earth Africa relies on the power of collaboration and partnership across the continent to ensure we are building capacity, strengthening organisations and empowering users to make a difference to their local and regional areas."
Sena Adimou, Head of ICT at AFRIGIST said:
"At AFRIGIST, we have great passion for capacity building and development with a strong focus in empowering people to be able to carry out trainings with others. With Digital Earth Africa, we will continue to develop and expand the learning platform and deliver tailored training sessions to the global community, making Earth Observation accessible and digestible to all."
Bako Mamane, GIS and Remote Sensing expert at AGRHYMET said:
"We are very pleased to continue our valuable relationship with Digital Earth Africa. Our work predicting crop yields over the long term draws on Digital Earth Africa's cropland extent map services and will provide important insights into agriculture and food security in CILSS and ECOWAS country members."
Amadou Sall, Program Manager at CSE said: 
"Our work with Digital Earth Africa will help to identify crucial insights about the West African coastline, which is changing rapidly due to sea level rising. Access to Digital Earth Africa data and services helps our team to produce analysis that can be used for decision making about how to manage coastline to make it more resilient to climate change. In this way we can support West Africa Coastal Areas Management Program(WACMP). We also plan to use Water Observation from space (WOfs) service and Wetland insight tool for monitoring surface water dynamics and water quality in West Africa.''
David Ongo, GIS Analyst at RCMRD said: 
"We are excited to continue our relationship with Digital Earth Africa. We will be using the crop mask service and co-developing enhanced crop map capability to analyse cropping at scale and work towards greater food security for the region. We will also be working with the wetlands insight tool to monitor and preserve this vital terrain which acts as a flood barrier, a habitat for fish and wildlife and sequesters significant carbon."
Fatou Mar, Land Department Co-ordinator at OSS said:
"Building and sustaining partnerships is an important part of making the African Earth observation industry productive and thriving. We are delighted to work with Digital Earth Africa on a land degradation project that will provide important insights to decision makers and natural resource managers in Africa and provide vital insights into how the region can better adapt to and mitigate the effects of climate change."
The partnerships were signed by the SANSA on behalf of the new Program Management Office.
Dr Val Munsami, CEO at South African National Space Agency said:
"We are delighted to support Digital Earth Africa in establishing these partnerships. Collaboration will be crucial to the success of the Earth observation industry in Africa, as well as to creating a united approach to tackling some of the continent's greatest sustainability challenges."