28 Mar 2023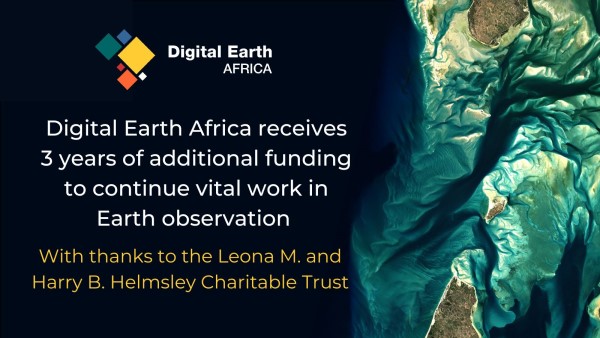 Digital Earth Africa (DE Africa) has received additional funding from The Leona M. and Harry B. Helmsley Charitable Trust to continue its vital work providing free and accessible Earth observation data to Africa, until 2026 and beyond.
Using Australian innovation, and now successfully established in Africa, DE Africa provides open-source data and products to support decision makers across the continent. 
Dr. Thembi Xaba, Managing Director at DE Africa, said that this next phase of funding and investment, which will begin in mid-2023, will support DE Africa to further embed operations across Africa, enhance in-country engagement, and empower greater community engagement.
"With support like this from our funding partners, the Helmsley Charitable Trust and the Australian Government Department of Foreign Affairs and Trade, DE Africa is on track to improve the lives of African people by providing planners and policy makers with tailored Earth Observation information to support better decision making and enhance sustainable development outcomes," she said.
Since it was established in 2019, DE Africa has established strong partnerships with a diverse range of national, regional and international stakeholders and has developed a trusted and increasingly well-known brand.
In collaboration with Amazon Web Services' Amazon Sustainability Data Initiative, DE Africa has stored over 3.5 Petabytes of data at the AWS Africa (Cape Town) region. This storage underpins the provision of a secure, stable and high-performing platform for users across Africa. 
"Our platform and services enable African governments, industry and decision makers to track changes across the continent in unprecedented detail, providing valuable insights for better decision making across many areas, including flooding, drought, soil and coastal erosion, agriculture, forest cover, land use and land cover change, and water availability and quality," Dr. Xaba said. 
"We are excited for this next phase of the program and are continually grateful for the support of our funding partners, in particular the Helmsley Charitable Trust. This will allow the program to continue to strengthen and empower users across the continent to harness the power of Earth observation data and services for better decision making. We look forward to officially launching Phase Three in a few months' time," Dr. Xaba said