08 Feb 2022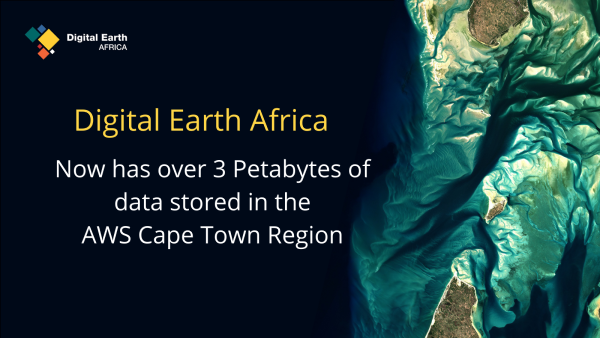 Digital Earth Africa reaches a significant technical milestone - 3PB of satellite data for sustainable development in the AWS Cape Town facility
Digital Earth Africa now has over 3.1 Petabytes of freely available data stored in Amazon Web Service's (AWS) Cape Town Region facility - equivalent to over 1,500 billion pages of standard printed text. 
The data is hosted as part of the Amazon Sustainability Data Initiative (ASDI), which is backed by AWS cloud infrastructure. With the support of ASDI, the DE Africa platform has now been a fully operational digital infrastructure for public good for over 14 months. 
"Being close to our users has always been important to DE Africa. Thanks to the support of ASDI, our users across Africa have free, quick and reliable access to a huge library of country-agnostic data. It is easy to find, rapid to use and stored on-shore for policy and decision makers across the continent." Lisa Hall, Managing Director of the Digital Earth Africa Establishment Team. 

The initial transfer of DE Africa data to the AWS facility in South Africa was an important milestone for the organisation back in November 2020. Since then, the use of the storage has increased exponentially as more Earth observation imagery, DE Africa services and new datasets are added to the platform. Hosting the data on the continent enables users to access and analyse information more quickly and in an environment that is reliable and scalable.
ASDI is a program that seeks to accelerate sustainability research and innovation by minimizing the cost and time required to acquire and analyse large datasets. ASDI is collaborating with DE Africa as the technology enabler for global observations - helping data users across the continent gain fast access to petabytes of decision-ready satellite data. 
"At ASDI, we see Digital Earth Africa as a crucial initiative for Africa to help researchers, governments and industry to access the data and information they need to solve problems and make decisions about sustainability on the continent." Ana Pinheiro Privette, Global Lead, ASDI.
The analysis-ready data is available in Cape Town and can be used to provide informed analysis about a number of sustainable development challenges, including food security, access to water and flood risk, and land degradation. Digital Earth Africa recently featured in AWS Documentary - Zanzibar: The Essential Mangrove, which told the story of how students and researchers in Zanzibar are using Digital Earth Africa data to prioritize restoration efforts of mangroves along African coast lines, to help fight the effects of climate change.
Users can access DE Africa's services and Analysis Ready Data (ARD) such as Landsat and Sentinel 1 and 2 imagery through Digital Earth Africa Maps
Free 6-week training is available via the Learning Platform, and you can analyse data in the Sandbox environment. 
More information about DE Africa is available at digitalearthafrica.org or explore the data and services for yourself on the platform here.