25 Sep 2023
Digital Earth Africa (DE Africa) participated at the 7th AfriGEO Symposium in Swakopmund, Namibia on 18th to 22nd September 2023. 7th AfriGEO Symposium  was held at the COSDEF Arts and Crafts Centre, in Swakopmund and was co-hosted by the Namibian Ministry of Higher Education, Technology and Innovation (MHETI), and the National Commission on Research, Science and Technology (NCSRT). The AfriGEO Symposium theme was Earth Observation for Africa prosperity and included three pre-conference workshops on 18 and19 September 2023, each workshop was led by DE Africa, Esri and GEO Land Degradation Neutrality (GEO-LDN) respectively. 
The pre-conference workshop led by DE Africa was facilitated by Dr Kenneth Mubea, Capacity Development Lead. This workshop had participants from government, universities, non-government organisations, and the private sector from eight countries, Ghana, Kenya, Malawi, Namibia, South Africa, Uganda, Zambia, and Zimbabwe. The workshop included:
An overview of DE-Africa and analysis-ready satellite data, products, services, and tools DE-Africa platform, Maps and Sandbox

Hands-on training on how to use the DE-Africa platform to develop products on crop health, phenology, vegetation anomalies and water extent

Use case development in the sectors of agriculture, water, urbanisation, and land degradation.
During the GEO-LDN Training Workshop, one of the DE Africa implementing partners, Sahara and Sahel Observatory (OSS) provided an introduction to DE Africa. DE Africa Head of Operations, Zviko Mudimu, provided the workshop participants with background and program objectives of DE Africa while Tapsoba Thierry (from OSS) provided an introduction and technical overview of the DE Africa Sandbox.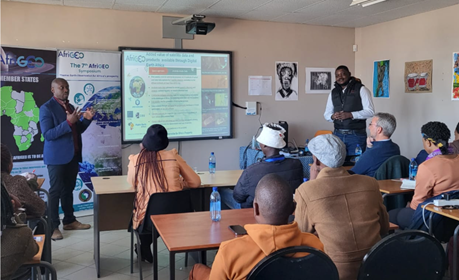 The final pre-symposium workshop on Esri Training was facilitated by Pauline Okeyo. The 2-day training session to provide participants with the necessary resources and skills in solving geographic problems. The training included how to access Digital Earth Africa products and services through Esri platforms.
In conclusion, DE Africa played a prominent role in the 7th AfriGEO Symposium held in Swakopmund, Namibia, from 18-22nd September 2023. DE Africa's active participation in these conferences demonstrates its commitment to advancing Earth observation capabilities and promoting climate action across the African continent. The exchange of knowledge and expertise at the 7th AfriGEO Symposium undoubtedly contributes to the growth and success of Earth observation initiatives in Africa.
Connect with us
Website: https://www.digitalearthafrica.org Email: info@digitalearthafrica.org 
Sign up for the free learning courses on: https://learn.digitalearthafrica.org.
Follow us on social media: Digital Earth Africa (@DEarthAfrica) on Twitter and Digital Earth Africa | LinkedIn via LinkedIn.