09 May 2023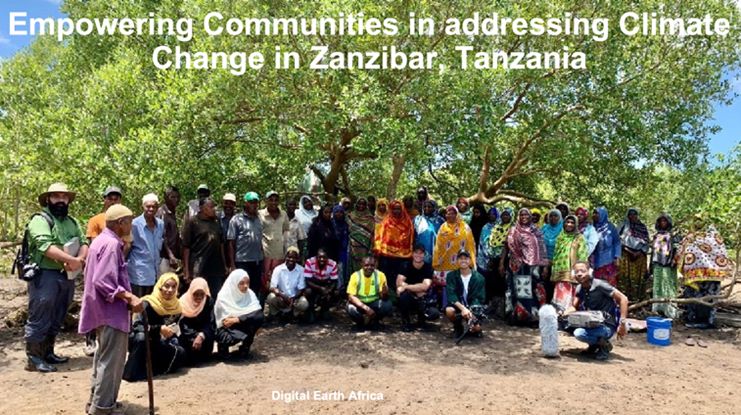 The ninth annual Measuring Development Conference (#MeasureDev2023) took place in Washington DC, USA on 4th May 2023, as part of the World Bank's #DevelopmentImpactWeek, bringing together climate change practitioners and showcasing innovative data sources and analytical techniques to better monitor emissions and appraise efforts to mitigate their consequences. Organised by World Bank's Development Impact Evaluation (DIME) department and Data Analytics and Tools (DECAT) unit, the Center for Effective Global Action (CEGA), and the University of Chicago's Development Innovation Lab (DIL), the theme for this year's conference was entitled Mitigating the Risks and Impacts of Climate Change.
DE Africa's Capacity Development Lead, Dr Kenneth Mubea, presented on Empowering Communities in addressing Climate Change – Zanzibar, Tanzania. DE Africa is helping African communities with near-real-time satellite imagery such as Sentinel 2 at ten metres spatial resolution powered by Amazon Web Services (AWS) and make data more easily accessible via the internet. DE Africa has trained the lecturers at State University of Zanzibar (SUZA), and the students, who are part of the YouthMappers network, and work closely with the community in terms of providing local knowledge of mangroves. The communities are now empowered to prioritise restoration efforts of mangroves along African coast lines. View a recording of the presentation here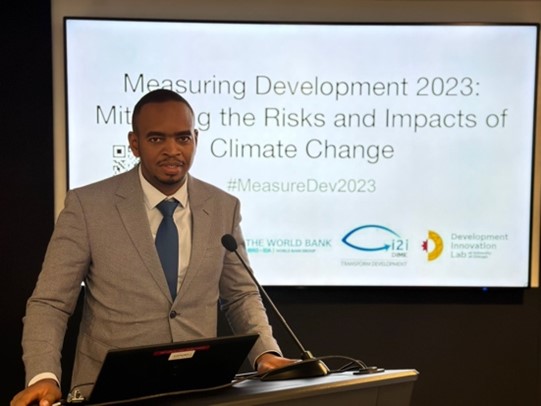 Leaders from several organisations also presented at the one day conference, including World Bank, Centre for Effective Global Action (CEGA), University of Chicago's Development Innovation Lab (DIL), University of Chicago, University of California Berkeley, Humboldt-Universität zu Berlin, University of Minnesota, University of College London, University of California, Santa Barbara, University of Pennsylvania, International Science Reserve, Facilities for Atmospheric Research and Education (FARE), UNICEF, Institute for International Urban Development, and Global Facility for Disaster Reduction and Recovery.
Click here to read more about #MeasureDev: https://cega.berkeley.edu/event/measuredev2023-climate/
DE Africa continues with its mission of empowering countries across Africa with Earth observation data to enable climate adaptation and mitigation, greater food security and more sustainable development. Stay connected with us via: https://www.digitalearthafrica.org/about-us and our social media platforms: Digital Earth Africa (@DEarthAfrica) / Twitter on Twitter and Digital Earth Africa | LinkedIn via LinkedIn.