16 Aug 2022
African leadership will take the powerful Earth observation (EO) tool Digital Earth Africa forward. This platform provides freely available analysis ready data (ARD) that covers the entire African continent—home to one in six people on Earth.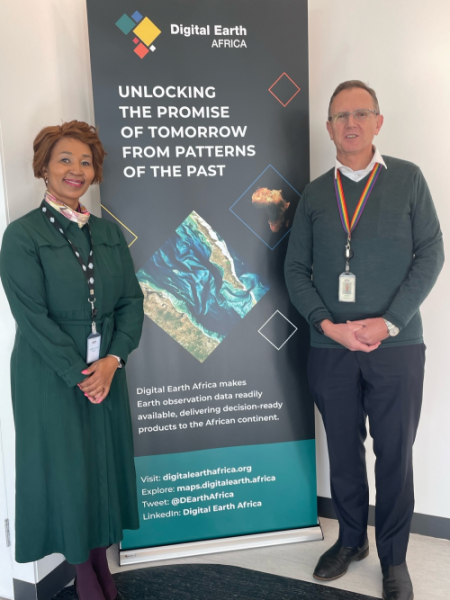 Dr Thembi Xaba, the Managing Director for Digital Earth Africa, visited Geoscience Australia recently to mark the leadership transition of the Digital Earth Africa platform to be owned and managed by Africa.
Since its launch in 2019, the Digital Earth Africa Establishment Team has led the development of this unprecedented EO capability, which is currently available to users in 54 countries. The tool covers a landmass of over 30 million square kilometres, opening continent-wide EO analysis and innovation in agriculture and food security, urbanisation, and land and coastal management.
Digital Earth Africa has leveraged Australian innovations in the Open Data Cube (ODC) and experience from Geoscience Australia's Digital Earth Australia platform to accelerate the development of ARD and cloud-optimised EO data formats. The work was managed by a team from Geoscience Australia, led by Dr Lisa Hall and Dr Adam Lewis, and was funded and supported by the Australian Government and other key partners.
Just three years since its inception, Digital Earth Africa has been recognised for its vast capability as an EO data processing system, picking up the ODC legacy that began in Australia and deploying it in one of the largest theatres of operation to date.
Digital Earth Africa is now owned and run by a Program Management Office that is based in Pretoria, South Africa, following the successful handover of stewardship from Geoscience Australia.
Digital Earth Africa Managing Director, Dr Thembi Xaba, said the transition reflected the power of collaboration.
"It gives me great pleasure to lead Digital Earth Africa into this next chapter," said Dr Xaba. "The work that has been done by the team so far and by our network of partners across Africa and around the world is testament to the power of collaboration, innovation and technology towards sustainable development outcomes."
Geoscience Australia's Dr Hall remarked that the handover had always been central to the mission, but it was only a marker along the journey toward further technological innovation based on the African continent.
"The transition of Digital Earth Africa to be Africa owned and run is a wonderful milestone," said Dr Hall. "This has been the vision and mission of the organisation from the very start – to put open, free data into the hands of users on the continent and to work with Australian technology as a springboard for African innovation. We are looking forward to seeing Digital Earth Africa continue to grow and thrive under its new leadership."
The overwhelming success of the establishment process was achieved by prioritising diversity, African ownership, African leadership, and partnerships, despite the international disruption of the COVID pandemic present since early 2020.
Geoscience Australia's Chief of Space Division, Alison Rose, welcomed Dr Xaba's visit. "We are so pleased to be working with the new Digital Earth Africa leadership," Ms Rose said. "Digital Earth Africa has been a key project for Geoscience Australia and we are thrilled to see it move into such capable hands."
Digital Earth Africa is improving the lives of people across the African continent by translating Earth observations into insights that support sustainable development. The work continues under African leadership, as the maps, products and services are being used to progress sustainable development objectives across the continent. The next phase for Digital Earth Africa is to continue working towards climate action and sustainable development with partners from across the continent.
"Digital Earth Africa is already making a tangible impact towards a more sustainable future for Africa. African leadership will continue to build on this potential, ensuring products and services are tailored to meet the needs of users and address some of the continent's greatest challenges," Dr Xaba said.
Geoscience Australia is proud to continue to support Digital Earth Africa and climate action for Africa.