28 Mar 2022
With a mission to improve decision making throughout the agriculture value chain, the agriBORA platform is all about empowering agribusinesses. It was designed to provide smallholders with vital information like weather forecasts and to bring farm inputs, financial services and markets closer to those who need them. This helps farms in East Africa to be as productive and profitable, and sustainable as possible.
As a winner of the Digital Earth Africa Industry Challenge, agriBORA was invited to take part in a 3-month incubator, using the full archive of analysis ready satellite data and services available through Digital Earth Africa to help produce open source data or software to solve real problems. The incubator participants also received technical expertise from Caitlin Adams (FrontierSI), renowned for her work in pushing the boundaries of science in Earth Observation.
The SMARTFARMER Project
The agriBORA team seized the chance to use the incubator to advance their SMARTFARMER project. Aiming to further develop the organisation's agro-advisory service, SMARTFARMER integrates satellite imagery with weather data, soil data and farm management information to provide farmers with practical advice and recommendations exactly when they need them. More effective and informed agricultural practices will help to contribute to greater food security and more adaptive farming techniques as producers adapt to the effects of a changing climate.
"The analysis ready data and open-source notebooks available thanks to Digital Earth Africa were crucial to developing our product," says agriBORA CEO, Kizito Odhiambo. "We were also diligent in our stakeholder engagement - it's so important to combine world-leading tech inputs with local knowledge to create a holistic solution."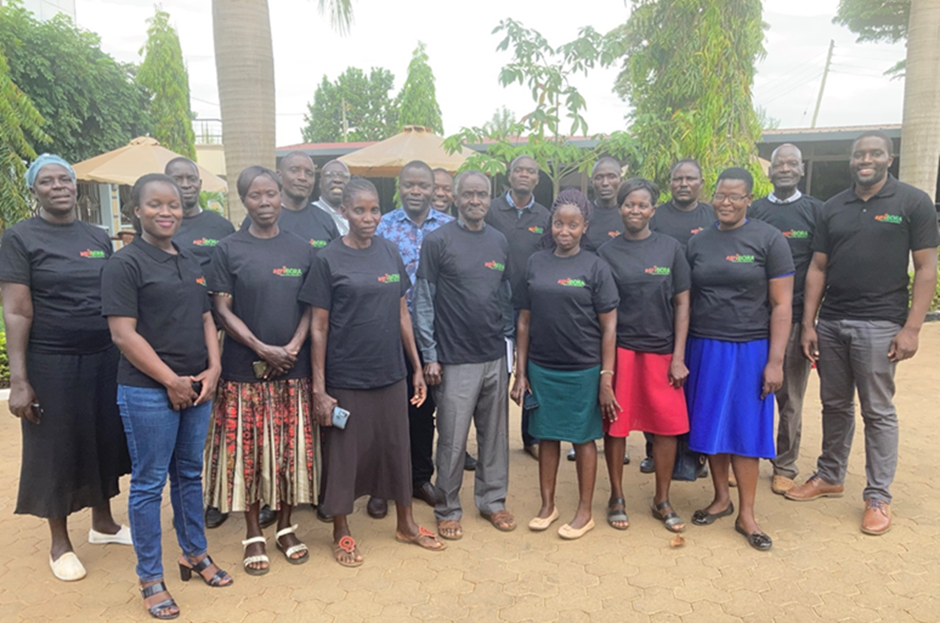 agriBORA arranged focus group discussions with both local agriculturalists and policymakers to tailor their product to user needs, and drew from a number of Digital Earth Africa products and services to develop a well-rounded proposition. These included:
CHIRPS (Climate Hazards Group InfraRed Precipitation with Station) rainfall data, accessed through DE Africa's STAC API, following Digital Earth Africa example notebook rainfall_chirps_daily, and processed in agriBORA's in-house Jupyter environment. This product generated 'heatmaps' of rain over specific locations, providing farmers with an overview of historical data from which to make decisions about cropping.
Sentinel-2 analysis ready data, accessed within the Digital Earth Africa Sandbox, is used to generate LAI (leaf area index), a key input to agriBORA's crop modelling tools. The near real-time measurements derived from satellite observations will enhance the capability of the tools and allow better predictions to be generated.
"Using the DE Africa STAC gave us cross-platform advantages - we were able to quickly integrate DE Africa products into our own analysis environment without the need to index the data ourselves. This saved us a lot of time and effort that would have otherwise been needed," Kizito says.
The agriBORA team will now look to streamline data access and investigate incorporating additional DE Africa data and analysis tools into their services. They will also continue to engage with local users further.
If you are interested in further technical detail, or would like to share and develop more open source data, all scripts and notebooks developed during the SMARTFARMER project have been uploaded to a public project folder on Github which can be accessed here