16 Sep 2020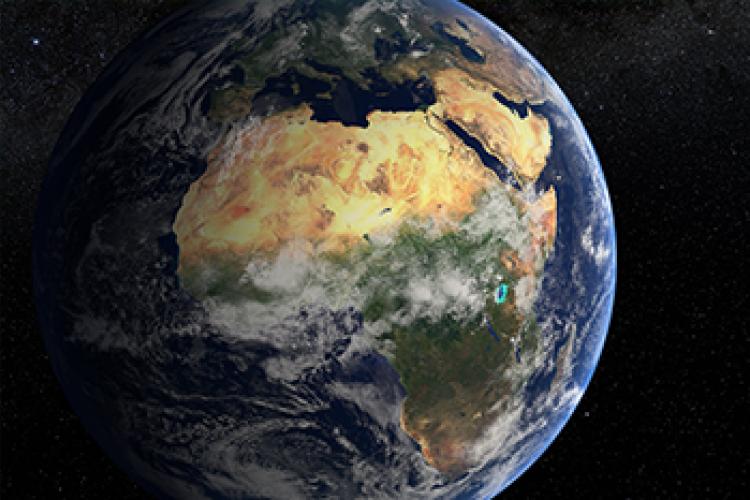 Satellites have continually captured Africa's land surface and coastlines for decades, but it has proven difficult to translate this into usable information. The key question Digital Earth Africa (DE Africa) has begun to answer is 'how can we ensure that the vast amounts of data being captured by satellites is available, findable, accessible and suitable for use by as many users as possible?' While there are vast amounts of free and open Earth observations (EO), the step to delivering impact is for the data to be more easily available. Dr Adam Lewis, Managing Director of DE Africa and Co-Chair of the Committee on Earth Observing Satellites (CEOS) Strategic Implementation Team, shares the importance and benefits of analysis-ready data for Africa.
Africa: a global pioneer of ARD
A key driver for DE Africa is to make decision-ready satellite data available for anyone to use, whether you are a policy officer proposing a change to how your government conserves natural resources, or a farmer deciding when and where to harvest. To do so, the program is entirely dependent on what is called Analysis Ready Data (ARD). The Committee on Earth Observing Satellites (CEOS) has been developing ARD specifications since 2016 to allow data to be processed to a more accessible and interoperable level. We also convert the satellite images into an open cloud image format (cloud optimised geotiffs) and apply state of the industry metadata (spatio-temporal asset catalog) that provides a common language to describe geospatial information. This allows thematic specialists in areas such as land cover, forest management, agriculture and water resources to apply the data.
It is our aim to demonstrate and test the benefits of operationally available ARD for all continents. As a pioneer of ARD, DE Africa provides a time-series of Copernicus Sentinel-2 data from 2017 onwards, making available 1.5 million scenes of data over Africa. We are now also working to make available 50,000 scenes per year of Sentinel-1 radar satellite imagery for the first time in Africa. Radar satellite imagery is important for Africa as it is not affected by clouds. CEOS Normalised Radar Backscatter is the simplest ARD product for radar, and will allow changes through time to be detected. This year we will also catalog the the new 'Collection-II' ARD from the United States Geological Survey (USGS), with the time-series dating from the 1980's.Through these investments, DE Africa will spearhead ARD approaches into global pipelines, demonstrating the incredible value of ARD to Africa.
A pilot: CEOS ARD for water index
A specific example of the power of CEOS ARD is through the Modified Normalised Difference Water Index (MNDWI). Calculating MNDWI is a powerful technique for detecting water lines. Why is this important? It has been proven to allow continental-scale monitoring of coastline erosion and deposition through the ability to identify and measure change. If MNDWI is not reliable, these applications become impractical because manual intervention is needed.
To demonstrate, the below example of Rio Baboque in Guinea-Bissau illustrates when CEOS ARD is applied and the difference when it is not. The first is a true-colour image of the area where cloud cover is evident. The water index is then applied. As a normalised index, it ranges from -1 to 1, where the blue indicates water, red is the land, and zero should indicate the land-water boundary. With CEOS ARD this is indeed the case, however with lower level data the index can 'move around' and zero will not indicate the land-water boundary. The third image compares the histograms from CEOS ARD and other data, which would overlap if lower level data could indicate that same land-water boundary.

The impact: better decisions
Through the use of ARD, DE Africa is providing a rich source of information to better understand and address challenges of sustainable development in Africa. This information tells a story over time to support decision-making by governments, private sector and civil society. DE Africa continues to expand on the ARD products it provides, informed by user needs to help countries address social, environmental and development challenges. For example, understanding changes to dams, wetlands, rivers and other water bodies due to floods and droughts can assist with better water management.
About Dr Adam Lewis
Dr Adam Lewis is the Managing Director of the DE Africa establishment team. Adam is an international leader in EO, and led the development of the Open Data Cube, allowing thousands of satellite images to be analysed as time-series, unlocking 'big data from space' and leading to government funding for Digital Earth Australia. This has paved the way for other continental-scale EO data-cubes – most importantly DE Africa. Adam is active in the EO community; he co-leads the CEOS Land Surface Imaging team and is Co-Chair of CEOS Strategic Implementation Team, leading the development of CEOS' strategy and frameworks for ARD. Within Australia, Adam commissioned and contributed to reports on the nature, scale and importance of EO for Australia in order to build an evidence base to inform policy, fostered the establishment of Earth Observation Australia, a whole of community form, and built strong relationships between Australia and international EO agencies in the United States and Europe, including establishing the Copernicus-Australasia Regional Data Hub.