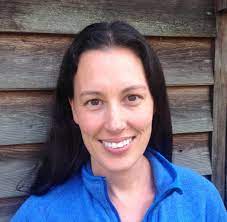 Senior Science Advisor and lead of the Product Development Task Team (PDTT) at Digital Earth Africa meghan.halabisky@digitalearthafrica.org
Meghan is a remote sensing ecologist who studies the dynamic patterns and processes of Earth using data across multiple satellite and aerial sensors. Meghan works with the PDTT team to understand the needs across Africa, and help co-develop solutions such as WOfS and crop type mapping.
Meghan's passion is working collaboratively with practitioners, policymakers, and other end users to ensure that Earth observation products are fit-for-purpose, easily understood, and ultimately have impact. She started her career as a conservation manager in Hawaii and was driven to get a MS and PhD to help make earth observation more accessible to managers and practitioners. She enjoys working to bridge the gap between scientists, practitioners, and data engineers through a process of co-production. 
Meghan has a background in conservation management, a concurrent Master's – M.S./M.P.A. from the Evans School of Public Policy and Governance at the University of Washington (UW) and a PhD in landscape ecology and remote sensing with the UW School of Environmental and Forest Sciences.