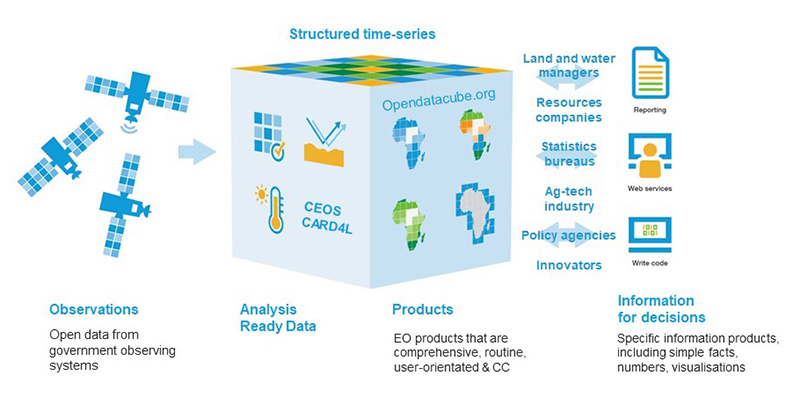 What is Earth observation ?
Earth observation (EO) is the gathering of information about planet Earth's physical, chemical and biological systems. It involves monitoring and assessing the status of, and changes in, the natural and manmade environment. Today's EO instruments include:
floating buoys for monitoring ocean currents
temperature and salinity
land stations that record air quality and rainwater trends
sonar and radar for estimating fish and bird populations
seismic and Global Positioning System (GPS) station
satellites that scan the Earth from space.
We're taking EO, the majority of which is freely available as open source raw satellite data, and making it analysis ready with what is known as an open data cube to make it easier to use and visualize changes across Africa's land and water.
What is an Open Data Cube ?
The open data cube (ODC) is an open source solution for accessing, managing and analyzing large quantities of Earth observation data, in particular time-series of satellite images. The initiative is both a community and a technology, with the idea that a community is being developed around this open source technology to further advance its core capabilities. The purpose of an ODC is to allow ingestion, storage, provision and analysis of structured geospatial data.An ODC consists of:
time-series, multi-dimensional (space, time, data type) stack of spatially aligned pixels ready for analysis
Analysis Ready Data (ARD): satellite data that have been processed to a minimum set of requirements and organized into a form that allows immediate analysis with a minimum of additional user effort and interoperability both through time and with other datasets
open source software approach allowing free access, promoting expanded capabilities and increasing data usage.
exploits time-series data, provides data interoperability and supports the development of new applications.
We're using the ODC concept to produce decision-ready products and services that support decision makers from all sectors, anywhere in Africa.