Digital Earth Africa (DE Africa) offers operational data infrastructure making current and historical satellite data analysis-ready, freely available and openly accessible for the entire continent. This enables raw data to be turned into decision-ready data analysis services to inform policy and drive action.
By developing the input Earth observation datasets and delivering platform and services through ODC structured time-series technology, DE Africa is able to produce the Earth observation insights for African users.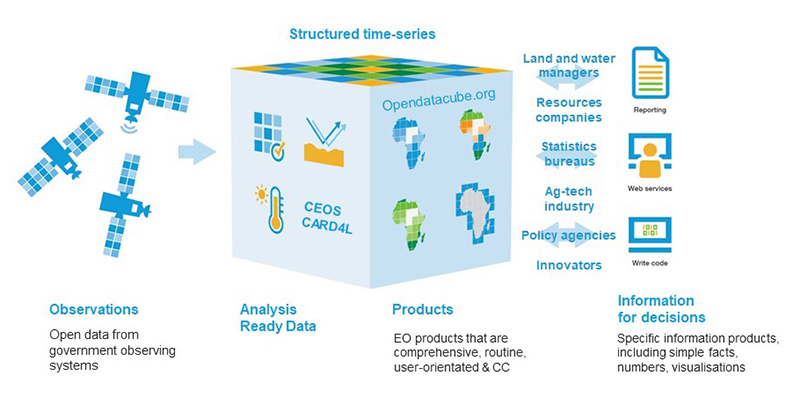 DE Africa is made possible by Australian innovation using the Open Data Cube that is internationally recognised as a game-changer for the use of satellite information to address sustainable development challenges.
We take open and free data provided by international satellite programs, including Landsat (United States) and Sentinel (Europe), and process it according to a set of requirements that allow immediate analysis. Our Technical Roadmap indicates when these datasets will be available.
A key driver for DE Africa is to make decision-ready satellite data available for anyone to use, whether you are a policy officer proposing a change to how your government conserves natural resources, or a farmer deciding when and where to harvest. The program is entirely dependent on what is called Analysis Ready Data (ARD). ARD is Earth Observation data that has been processed into a form that makes the data more widely accessible and easier to use. The Committee on Earth Observing Satellites (CEOS) has been developing ARD specifications since 2016 to allow data to be processed to a more accessible and interoperable level. Read more about how we are producing CEOS Analysis Ready Data for DE Africa.
DE Africa uses Cloud Optimised GeoTIFFs and SpatioTemporal Asset Catalog (STAC) specification metadata to help people work with analysis-ready Earth observation data more easily.